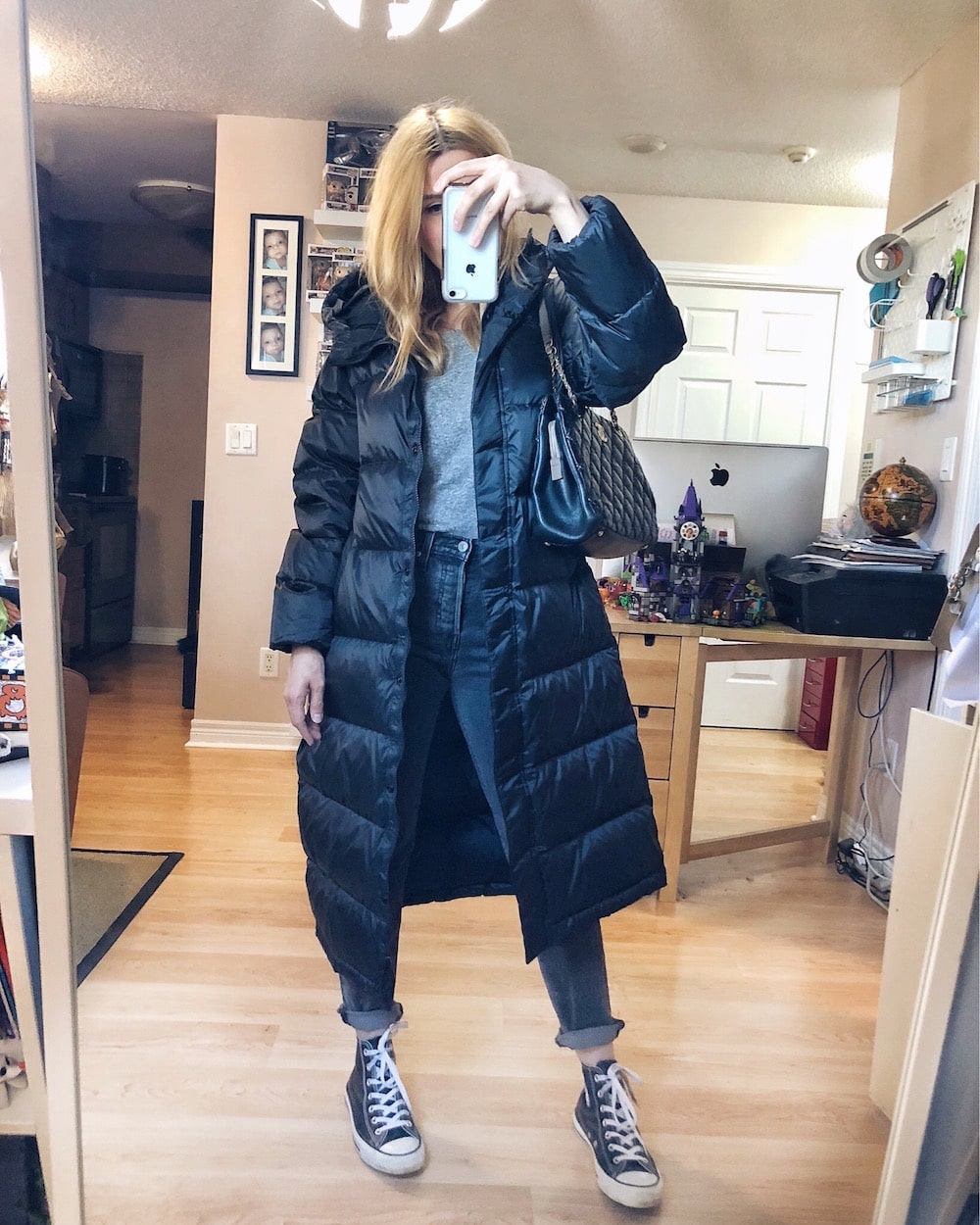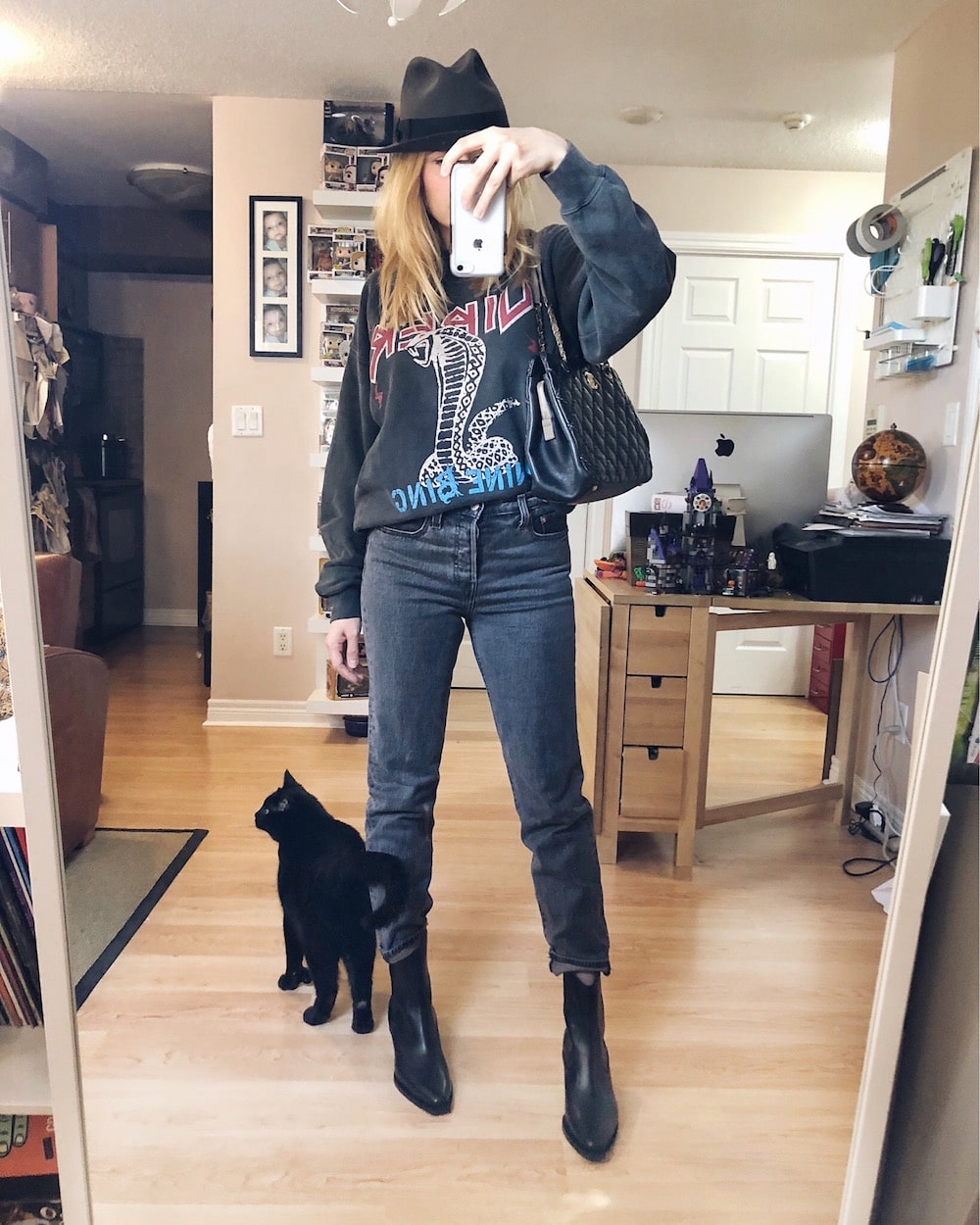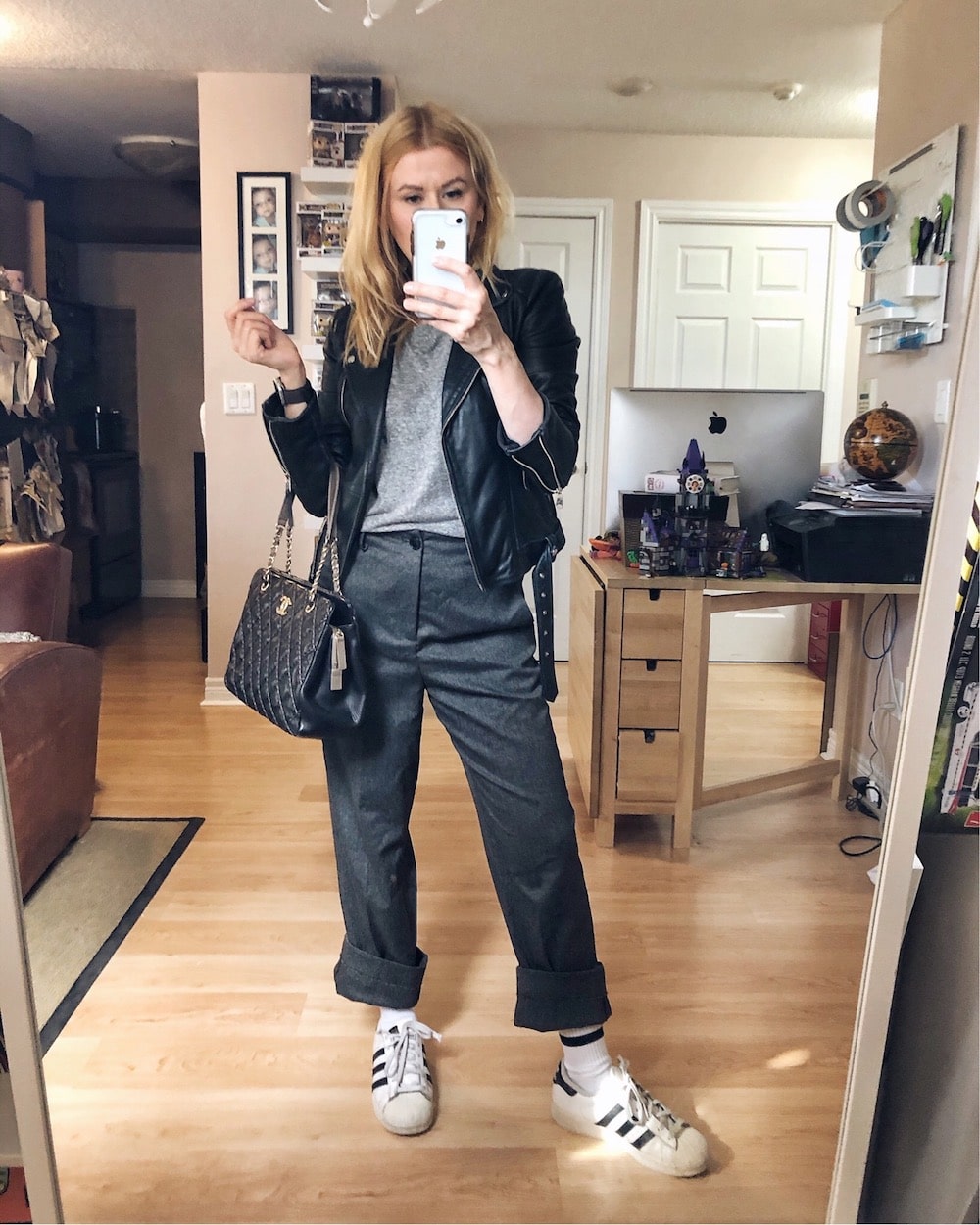 Outfit 1 – Turtleneck | Skirt | Boots | Purse |
Outfit 2 – Grey t-shirt | Jeans | Converse | Puffer Coat (gifted) | Purse |
Outfit 3 – Sweatshirt | Jeans | Fedora | Boots | Purse |
Outfit 4 – T-shirt | Trousers | Sneakers | Leather Jacket (similar) | Purse |
Outfit 5 – Blouse | Faux Leather Pants | Blazer | Sneakers | Sunglasses | Purse |
---
SHOP THE POST


---
We had a Halloween event for kids across the street yesterday so Merle got to wear her Lydia Deetz costume. This let me get some pictures of her because we all know that won't be happening on Halloween night. She'll be way too excited to stand still and then it will be too dark to get anything good.
I posted the photos to my Instagram and included them below. Everything for the costume was either thrifted or things that we already owned except the Handbook for the Recently Deceased which I found at Etsy, and the clip-on bangs from Amazon.
Roo doesn't generally let me take pictures anymore so we shall see if I manage to get one of her. If not, then let it be known that she is going as Freddy Krueger 😉
I bought some boots last week. I have wanted some 70s-ish looking brown boots for a long while and I found this pair from Free People. I kept coming back to them for months, and every time I looked they would sell out before I could take the plunge (although they seem to constantly restock). I searched on eBay, Poshmark, and Thredup but they never seemed to have the colour/size combination that I wanted, although the black, and burgundy pair are really nice too. After months and months, I finally managed to snag a pair.
I was worried that the heel was going to be too high, or at least too high for me and what I am used to. Many years ago I religiously sported high heeled boots and shoes throughout my 20s but they slowly made their way out of my wardrobe. I wasn't sure if I was going to look like an awkward newborn colt with wobbly legs, but I put in a pair of gel insoles and I seem to be alright. The sole is a little harder, so the gel insert feels good.
I am going to try and wear them all week to get used to them. Well, all except Halloween night because I have terrible night vision and would probably end up in a ditch with a rolled ankle.
You'll see a weeks worth of outfits in them for next Sunday's post, but if you want a peek, I posted wearing them for the first time on my Instagram today.
Have a great week, and Happy Halloween! Check out the Halloween costume pictures below.
You check out more of my What I Wore posts here.
Follow me on
FACEBOOK || INSTAGRAM || PINTEREST || BLOGLOVIN'
\