Portugal Packing List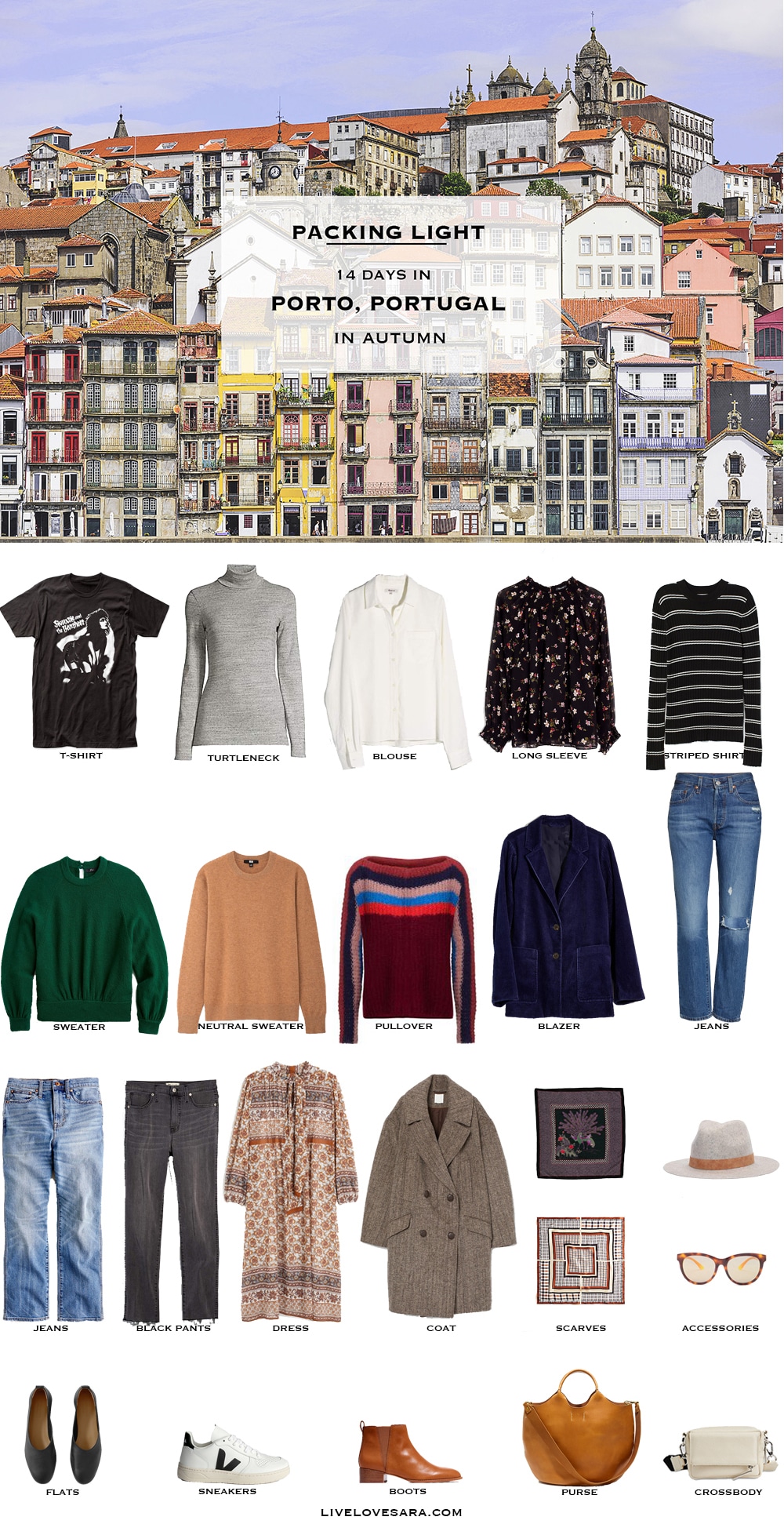 Band T-shirt | Grey Turtleneck | White Blouse | Floral Blouse | Striped Shirt | Green Sweater | Camel Sweater | Striped Sweater | Blazer | Dark Blue Jeans | Light Jeans | Black Pants | Dress | Coat | Black Scarf | Brown Scarf | Hat | Sunglasses | Black Flats | Sneakers | Cognac Boots | Cognac Purse | White Crossbody |
---
SHOP THE POST


---
To help you pack for Portugal, I have created this packing list to help give you ideas of what kinds of pieces would work, with travel outfit ideas on how to wear them.
Planning your Portugal travel capsule like this allows you to take the "I have nothing to wear" stress out of your travel.
I'm not a summer person so the thought of travelling to a country that is known for it's heat during the summer is not on the top of my list. I'd much prefer to to travel in the cooler months which just so happens to have less tourists.
It's a win-win situation if you ask me….which you didn't but I am telling you anyway 😉 So if you are planning a Portugal trip this is a good thing to keep in mind.
If you are wondering what to wear in Portugal in November, know that November is the month when the weather starts to cool down. It begins to get rainy, and windy so you might want to bring a windproof umbrella and/or a cute rain jacket.
There are a lot of great waterproof boots that are not rain boots if you plan on doing a lot of walking in the rain and looking for waterproof travel footwear that is stylish.
At this time of year you most likely won't have to worry about being properly covered if you visit any religious sites because you will most likely be wearing long sleeves and/or a light jacket.
Portugal is a slightly dressier country leaning towards "dressy casual", keeping it comfortable but stylish. The temperatures range between 16°C and 21°C in November and will continue to cool through the winter.
When determining what to wear in Porto in autumn it is important to note that this time of year is slowly transitioning from summer to cooler temperatures. It is good practice to bring a wide range of thinner layers so that you can adjust your outfits based on the fluctuating temperatures.
Holiday packing lists tend to follow basic formulas, mine are no different. If you can figure out a packing list formula that works for you, you will have no issues packing in a carry-on suitcase.
My most important tip is to make sure to preplan your outfits. It's easy to pick what you think will be good choices and pack it all, only to have the inevitable "I have nothing to wear" reaction once you get there.
In order to have it all go smoothly and take away your wardrobe vacation stress, preplanning is a good step.
Try on as many outfits as you can with your pieces and take a quick picture. That way you have something to reference once you get there if you are feeling uncreative, and uninspired by what you decided to bring.
If you practice this step regularly you will slowly hone your perfect travel wardrobe.
You can find more packing lists and what to wear guides in my:
Packing List Series
Travel Outfit Ideas
If you are travelling to Portugal in November and enjoyed my What to Pack for Porto in Autumn packing list, please feel free to share it via Pinterest, Facebook, or Twitter. Thank you.
Portugal Outfit Ideas


Band T-shirt | Grey Turtleneck | White Blouse | Floral Blouse | Striped Shirt | Green Sweater | Camel Sweater | Striped Sweater | Blazer | Dark Blue Jeans | Light Jeans | Black Pants | Dress | Coat | Black Scarf | Brown Scarf | Hat | Sunglasses | Black Flats | Sneakers | Cognac Boots | Cognac Purse | White Crossbody |
---
SHOP THE POST


---
Follow me on
FACEBOOK || INSTAGRAM || PINTEREST || BLOGLOVIN'