Italy Packing List for Summer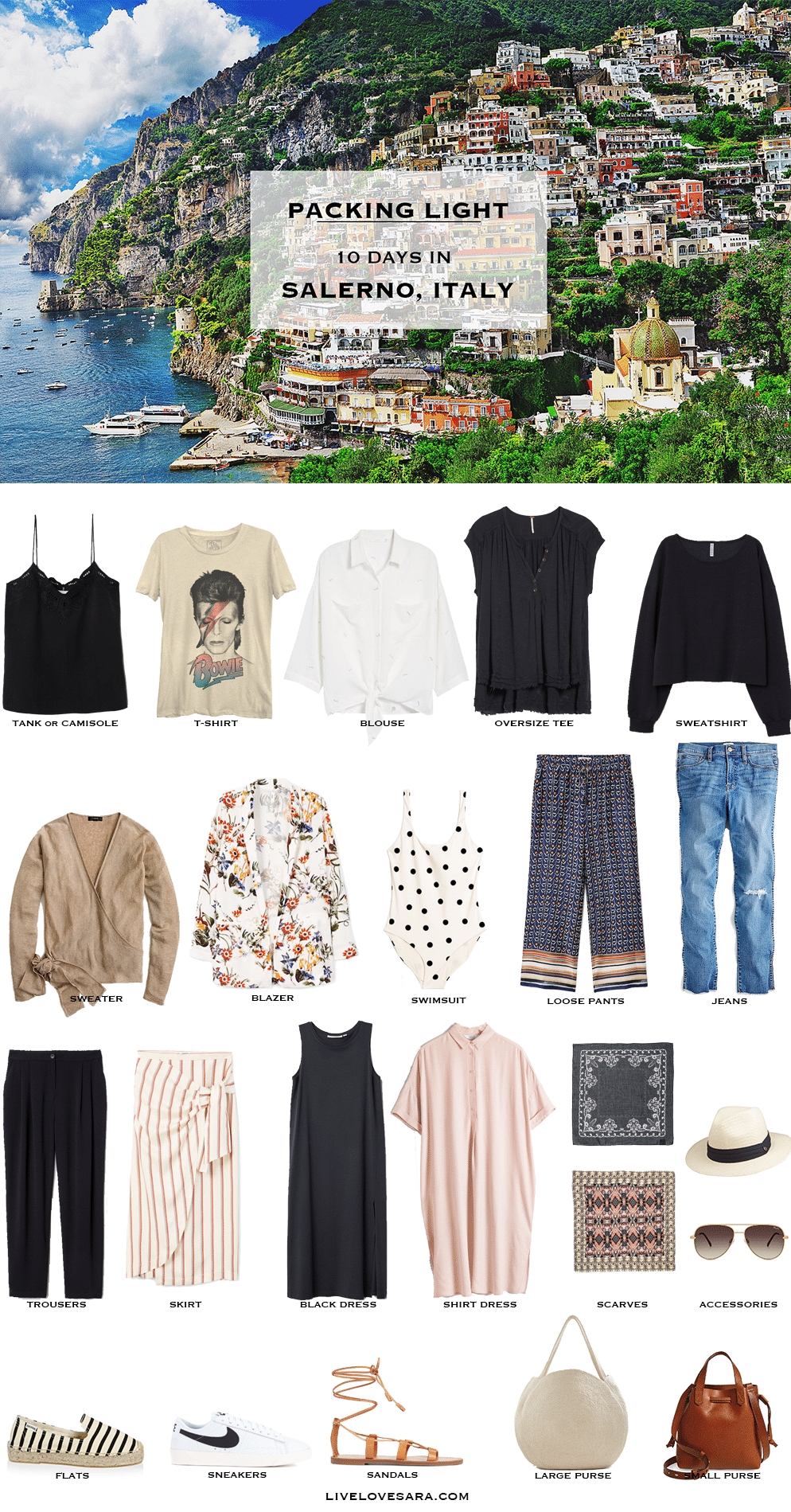 Black Camisole | Bowie T-shirt | White Blouse | Black Oversize Tee | Black Sweatshirt | Tan Wrap Sweater | Floral Blazer* | Polka Dot Swimsuit | Loose Pants | Blue Jeans | Black Trousers | Striped Skirt | Black Dress | Shirt Dress | Dark Scarf | Light Scarf | Straw Hat | Sunglasses | Striped Espadrille Flats | White Sneakers | Brown Sandals | Large Circle Purse | Brown Small Purse |
---
SHOP THE POST


---
Over the last two months I have been flooded with packing list requests, which makes sense because summer is almost here and tourism/vacation season is abound and everyone is looking for a travel capsule wardrobe.
This means that I get numerous requests for the same destination during the same time period, which makes it impossible for me to do that many separate lists to the same destination.
It wouldn't really make sense for me to either because it would be really repetitious. I know that each request comes fine-tuned with personal tastes, styles, colour preferences, and I try really hard to incorporate all that into each travel capsule.
But in order for me to get some of these done on time, I am going to have to combine some destinations that are similar climates for the same time period.
This week I had 9 requests for Italy in July/August and 3 requests for Sicily for the same time. And although I won't be able to get each one personalized I hope that you can use the ideas as a template and include the colours and details that you prefer.
I decided to label this one What to Pack for Salerno, Italy for two reasons: 1. I don't think I have ever made a Salerno destination list (If I have it was a long time ago), and 2. Salerno is the city in which the main character of a Medieval mystery book series I love is from.
She is kick ass woman during a time that women weren't allowed many freedoms. During the Middle Ages Salerno was one of the only medical schools that opened its doors to women. It made me want to visit.
In many/most Sicilian and Italian cities women tend not to wear shorts, even with the extreme heat of the summer. For this reason, I included some loose pants, some cropped, lightweight pants that can be easily cuffed, and a midi skirt, along with jeans (for travel and random cool weather) and a couple of dresses. This will be more than enough for 10 days in Italy.
Also noted the Nordstrom Half Yearly Sale started today and there is a huge amount of things for up to 40% off. I included several of these sale pieces in the packing list today. It's worth a peek if you are a procrastinator like me with buying sandals and summer pieces.
*If you aren't into pattern mixing and the floral blazer is too much, just swap it out for a neutral blazer. A black or navy linen blazer would look great with any of these pieces.
I did actually bite the bullet and ordered the sandals in this list on Monday night. It would be awesome if they arrived by the weekend because it's supposed to get HOT.
This packing list is for 10 days in Salerno in summer. All of the visuals in this post are meant as a guideline to aid you in creating your own Salerno Packing List based on your own clothing, colour preferences, and personal style.
If you are planning to visit Italy this summer and enjoyed my What to Pack for Salerno in Summer packing list, please feel free to share it via Pinterest, Facebook, or Twitter. Thank you.
This post contains affiliate links. By using my links to shop I may receive a small commission (at no cost to you). Thanks for supporting what I do🙂
You may also like:
What to Pack for Naples, Italy
What to Pack for Florence, Italy
What to Pack for a Month in Italy
What to Wear in Italy


Black Camisole | Bowie T-shirt | White Blouse | Black Oversize Tee | Black Sweatshirt | Tan Wrap Sweater | Floral Blazer* | Polka Dot Swimsuit | Loose Pants | Blue Jeans | Black Trousers | Striped Skirt | Black Dress | Shirt Dress | Dark Scarf | Light Scarf | Straw Hat | Sunglasses | Striped Espadrille Flats | White Sneakers | Brown Sandals | Large Circle Purse | Brown Small Purse |
---
SHOP THE POST


---
Follow me on
FACEBOOK || INSTAGRAM || PINTEREST || LIKEtoKNOW.it