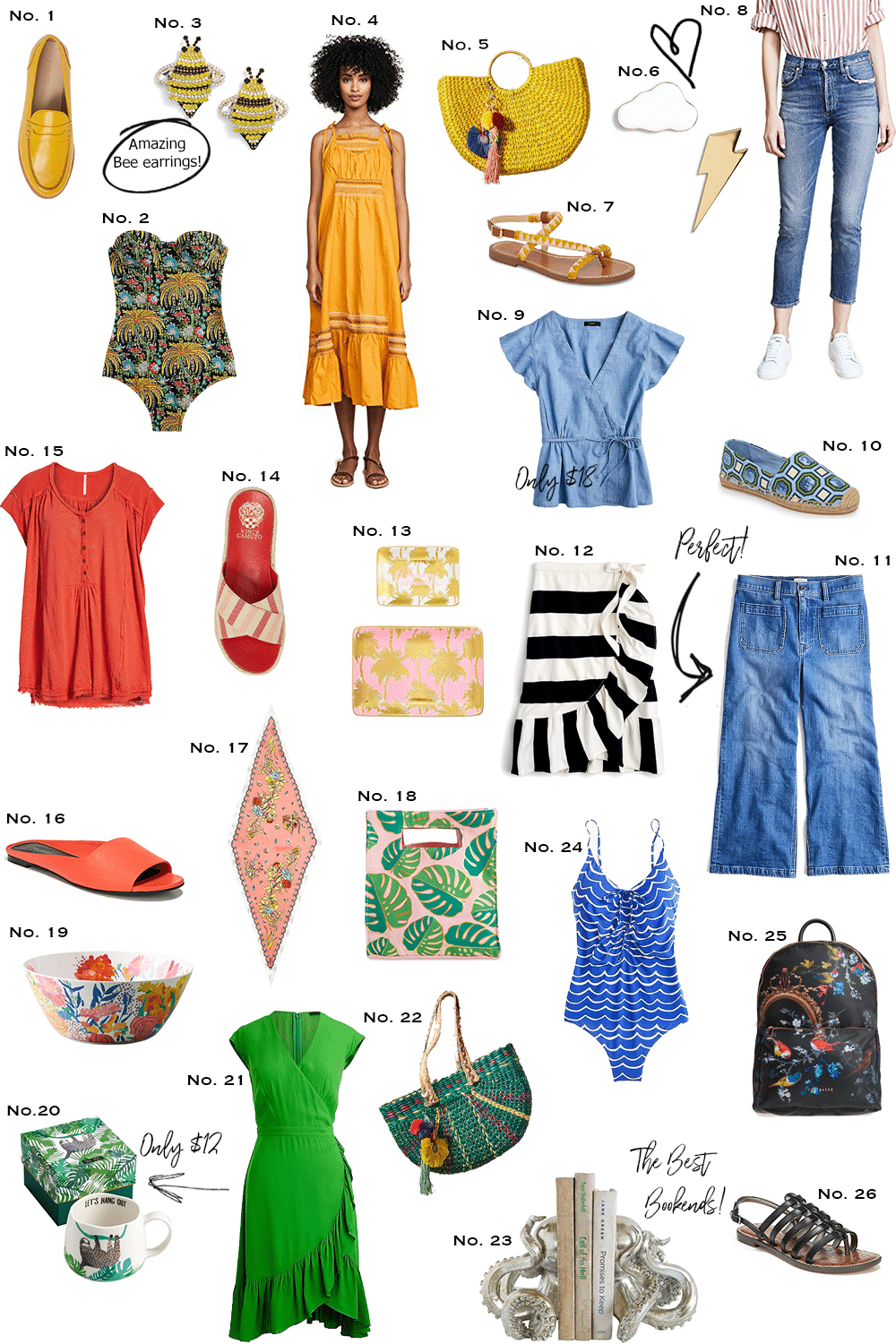 One | Two | Three | Four | Five | Six | Seven | Eight | Nine | Ten | Eleven | Twelve | Thirteen | Fourteen | Fifteen | Sixteen | Seventeen | Eighteen | Nineteen | Twenty | Twenty-one | Twenty-two | Twenty-three | Twenty-four | Twenty-five | Twenty-six
---
SHOP THE POST


---
Some where along the way Memorial Day weekend has almost turned into as big of an event as Black Friday when it comes to sales. I'm not sure when the meaning of the weekend switched to barbecues and shopping versus what the day really means, but these sales are far and wide. Even as a Canadian I have been bombarded with sales emails and coupon codes, so today's Reads and Finds is compiled with things that are currently on sale.
Here are a few of the sales that you can find this weekend:
Nordstrom — The Nordstrom Half Yearly Sale – Up to 40% off items
ShopBop — Save up to 40%. Plus, free shipping & returns
LOFT – 40% OFF Everything – Code: LONGWKND
Banana Republic – 40% OFF Everything – Code: BRSUMMER
J.Crew – 40% OFF Purchase – Code: GETAWAY
J.Crew Factory – 50% OFF Everything – Code: WINWIN
Ann Taylor – 40% OFF Purchase – Code: SOREADY
Anthropologie – Extra 40% OFF SALE
Madewell – 20% OFF dresses with code PRETTYPLEASE
Express – Everything up to 50% OFF
H&M – Deals from $5
Old Navy – 50% OFF Select Items
Target – Up to 30% Home & Patio
Weekly Reads (and maybe videos):
I need to bake this and this sometime soon because they look amazing..
The Latest Images Of Jupiter From NASA's Juno Spacecraft Are Seriously Incredible.
Can You Guess the Friends Episode Based on a Single Image? I have watched this series a million times and I bombed at this :/
What's Going On In Your Child's Brain When You Read Them A Story? I still read to both girls everyday. We never skip bedtime stories with Merle and during the day I read from classic literature to Roo….and Merle who is always listening. She loved Lord of the Flies and Animal Farm in particular which seems so weird for a 7 year old.
17 Terrifying Things That've Happened When A Woman Rejected A Man's Advances. It was until I was older that I realized how desensitized I was to it when I was younger. It was automatic to come up with an excuse or lie about having a boyfriend so you wouldn't have to straight up reject a guy. The fear of this type of reaction was so ingrained that it became "normal" to do so, when it should be anything but normal. Even today I find that I am often overly nice to men that talk to me when I am out alone because I am still scared.
The Scariest Real Places on Planet Earth. I don't know about you, but I very much want to visit some of these.
5 Marie Kondo Approved Hacks to Spark Joy in Your Life Through Organization.
Summer Movie Guide: 27 Films Coming Your Way.
Merle is watching Harry Potter and the Deathly Hallows Part 1 for the first time (I said that we had to read the books before she saw the movies) and she had forgotten Hedwig dies, so she is currently moaning, "Why Hedwig, Why?" for the last 20 minutes.
---

---
Follow me on
FACEBOOK || INSTAGRAM || PINTEREST || BLOGLOVIN'
SaveSave
SaveSave
SaveSave
SaveSaveSaveSave
SaveSave