Barcelona Packing List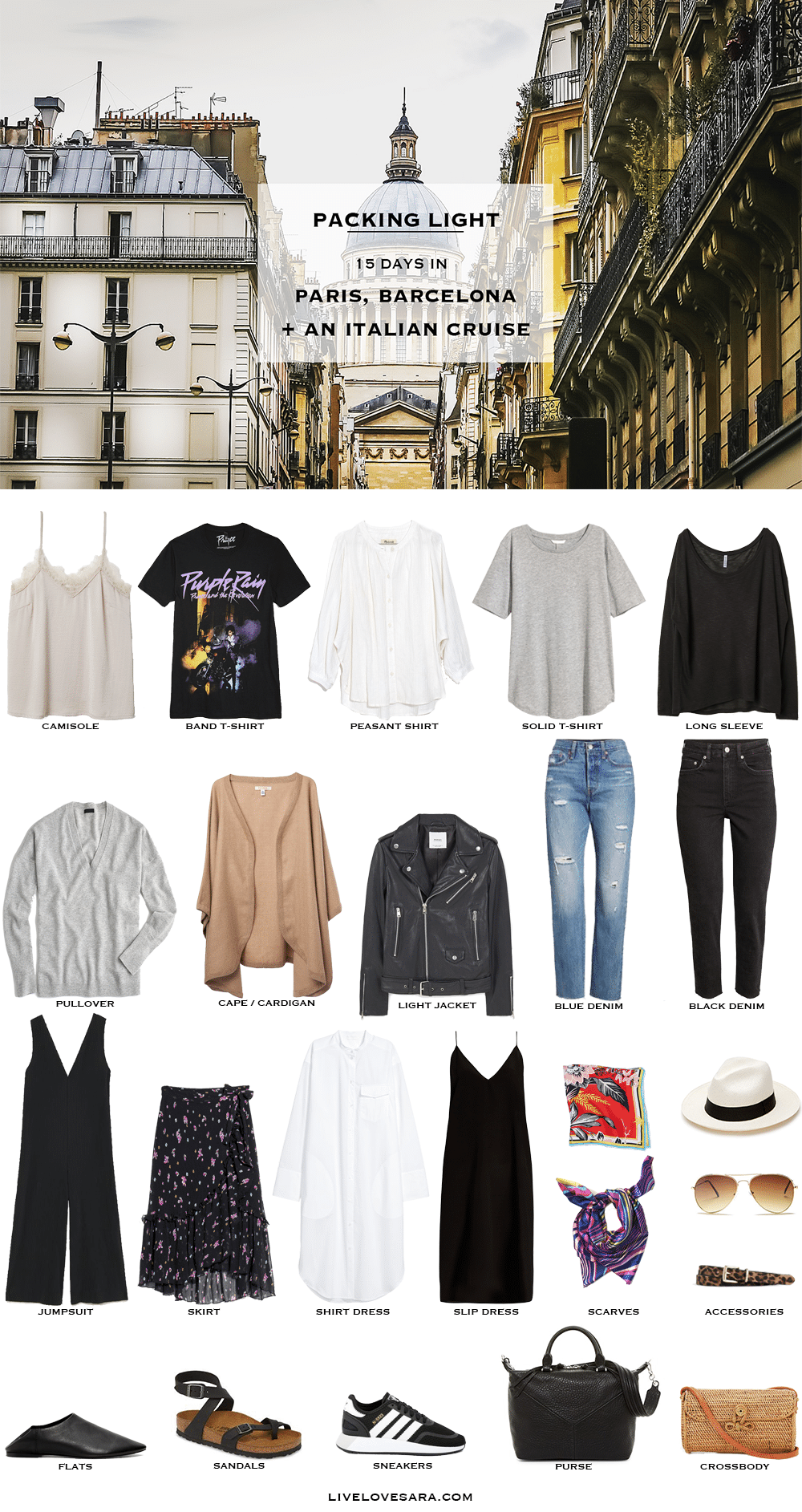 Beige Camisole | Prince T-shirt | White Peasant Shirt | Grey T-shirt | Black Long Sleeve | Grey Pullover | Camel Cape | Leather Jacket | Blue Denim | Black Denim | Black Jumpsuit | Floral Skirt | White Shirt Dress | Black Slip Dress | Red Print Scarf | Purple Print Scarf | Hat | Sunglasses | Animal Print Belt | Black Flats | Sandals | Sneakers | Black Purse | Rattan Bag |
SHOP THE POST


So it's quite the mix this week of locations and itineraries, and I wasn't too sure of what I should include in this Paris and Barcelona packing list so that everything was covered. This is for a 15 day trip in July that will include a 7 day Italian Cruise and several days in Paris and Barcelona.
It can be HOT at this time of year, but on a cruise, it can get cool at night on the water. Because of this, I tried to balance with having enough light and breezy pieces versus a few pieces to keep you comfortable in air conditioning, travel times, at night, and on the water.
She wanted some lightweight pieces that can easily be styled in many ways. I'll start with some key pieces: a jumpsuit because I just bought this one and I am in love with it.
I thought it would look bad on and might be too low-cut but it wasn't (you can easily wear a bra under it). It's loose, light, and breezy and so versatile that I am really looking forward to the summer (kind of) and it was only $35.
Another travel staple is a slip dress. They look incredibly sexy when worn alone, trendy with a t-shirt layered under, it looks like a skirt when a sweater is worn over it, or a shirt when layered under a skirt, and when you throw on a leather jacket it adds a cool and edgy vibe.
I'm pretty sure leather jackets do that with everything though which is why I included it. You just don't get that same look when you throw on a denim jacket even though those are a much more popular style for summer.
The white blouse is loose, and airy while giving you protection from the sun, and the black shirt although this long sleeve is very lightweight and the scoop neck is wide enough that you can easily slip it off one shoulder for a relaxed, yet sexy (and more summery) look.
A classic piece is a white, cotton shirt dress that you can wear as is, belted, or left open over the slip dress or a cami and jeans (as a long kimono style overshirt).
When I saw the Prince t-shirt I had to include it because Prince has always been and will always be one of my favourites.
The thing with trying to pack light is to keep it simple. You don't need more than 3 pairs of shoes (pack two, wear one), only a few pieces of jewellery if you are bringing some (like a simple necklace, watch, and earrings.)
I wouldn't bother with much more than that unless you're going to have an event where you need to dress up to a higher degree.
Which also another important thing to note: many cruises have a least one dinner that requires dressing up (oftentimes every night is an event) so make sure that you are prepared for that if it is included in yours.
I would bring just a simple black dress, earrings like above, a small clutch (maybe use this to store your jewellery when travelling to save room), and wear a red lip and call it a day. I'm pretty basic when it comes to getting fancy though.
I included a cape from Cuyana instead of a cardigan because they are a classic piece, gorgeous, and very versatile.
They can easily be draped, wrapped, or belted for different looks and come in three colours (black, camel, and grey and I have no idea which one I want).
Don't forget a hat and sunnies because the sun can be pretty intense when it reflects off of the water….and a swimsuit if you are going to have access to a pool and/or beach (Target has some good ones that are inexpensive, and Modcloth has some gorgeous ones that are sort of expensive [around $100]).
I hope you can play around with some of my ideas and piece something together that will work for you. I included 18 travel outfit options at the bottom of this post so that you can see some of the pairings that I was playing around with.
If you are visiting Paris or Barcelona in the summer and enjoyed my What to Pack for Paris, and Barcelona packing list, please feel free to share it via Pinterest, Facebook, or Twitter. Thank you.
You may also like:
What to Pack for Paris in Spring
What to Pack for Barcelona, Spain
What to Wear in Barcelona

Beige Camisole | Prince T-shirt | White Peasant Shirt | Grey T-shirt | Black Long Sleeve | Grey Pullover | Camel Cape | Leather Jacket | Blue Denim | Black Denim | Black Jumpsuit | Floral Skirt | White Shirt Dress | Black Slip Dress | Red Print Scarf | Purple Print Scarf | Hat | Sunglasses | Animal Print Belt | Black Flats | Sandals | Sneakers | Black Purse | Rattan Bag |
SHOP THE POST


This post contains affiliate links. By using my links to shop I may receive a small commission (at no cost to you). Thanks for supporting what I do