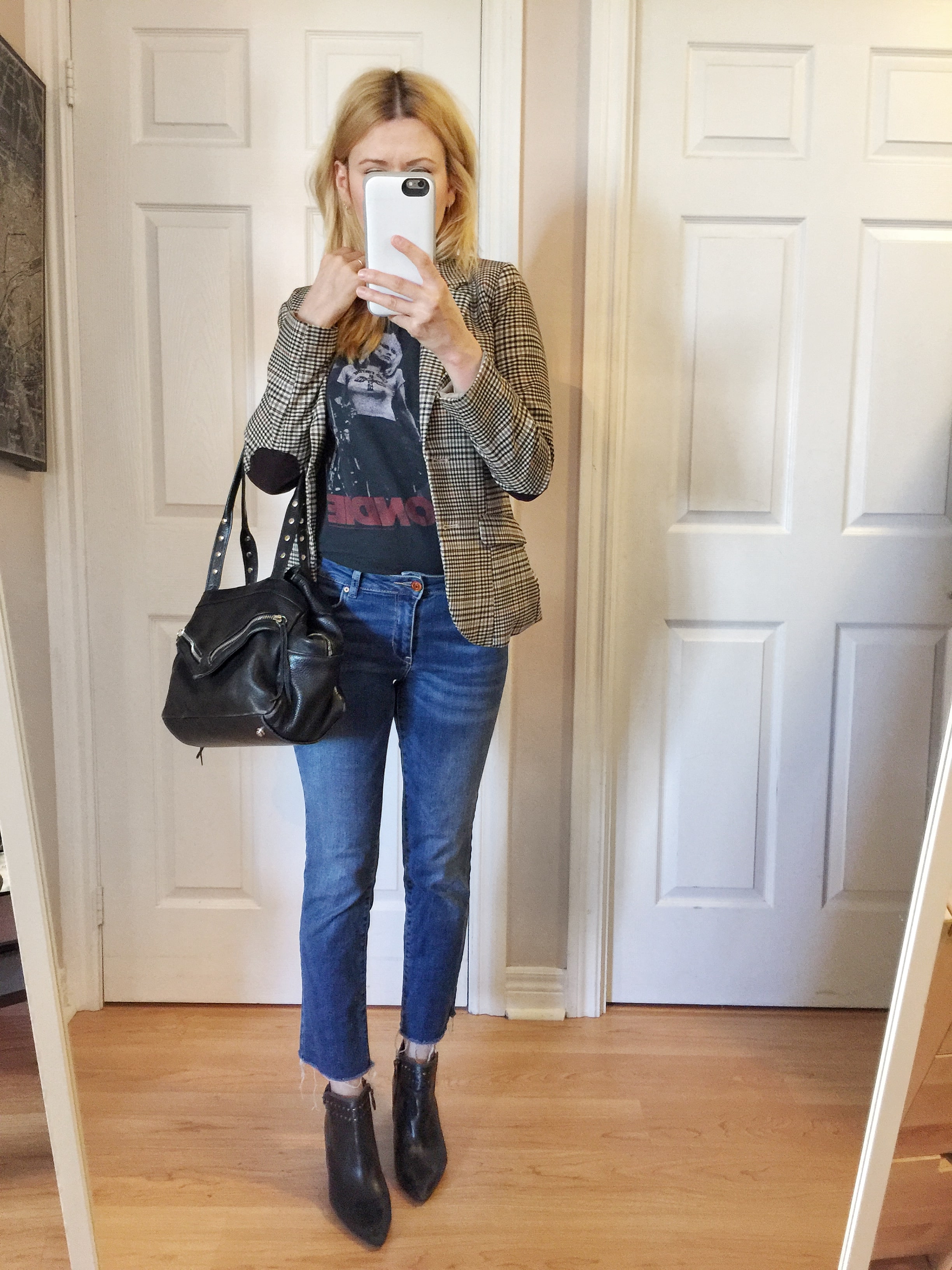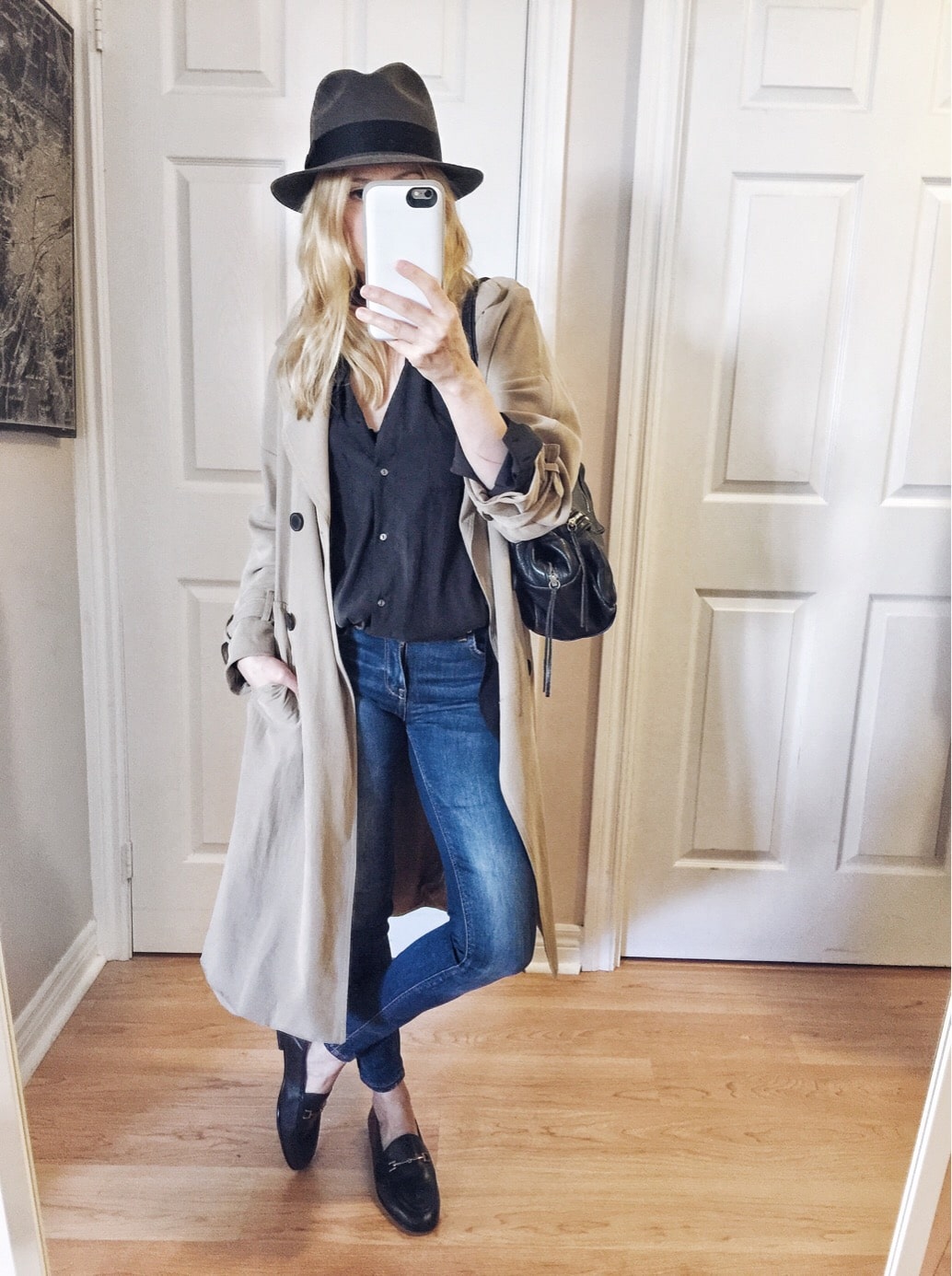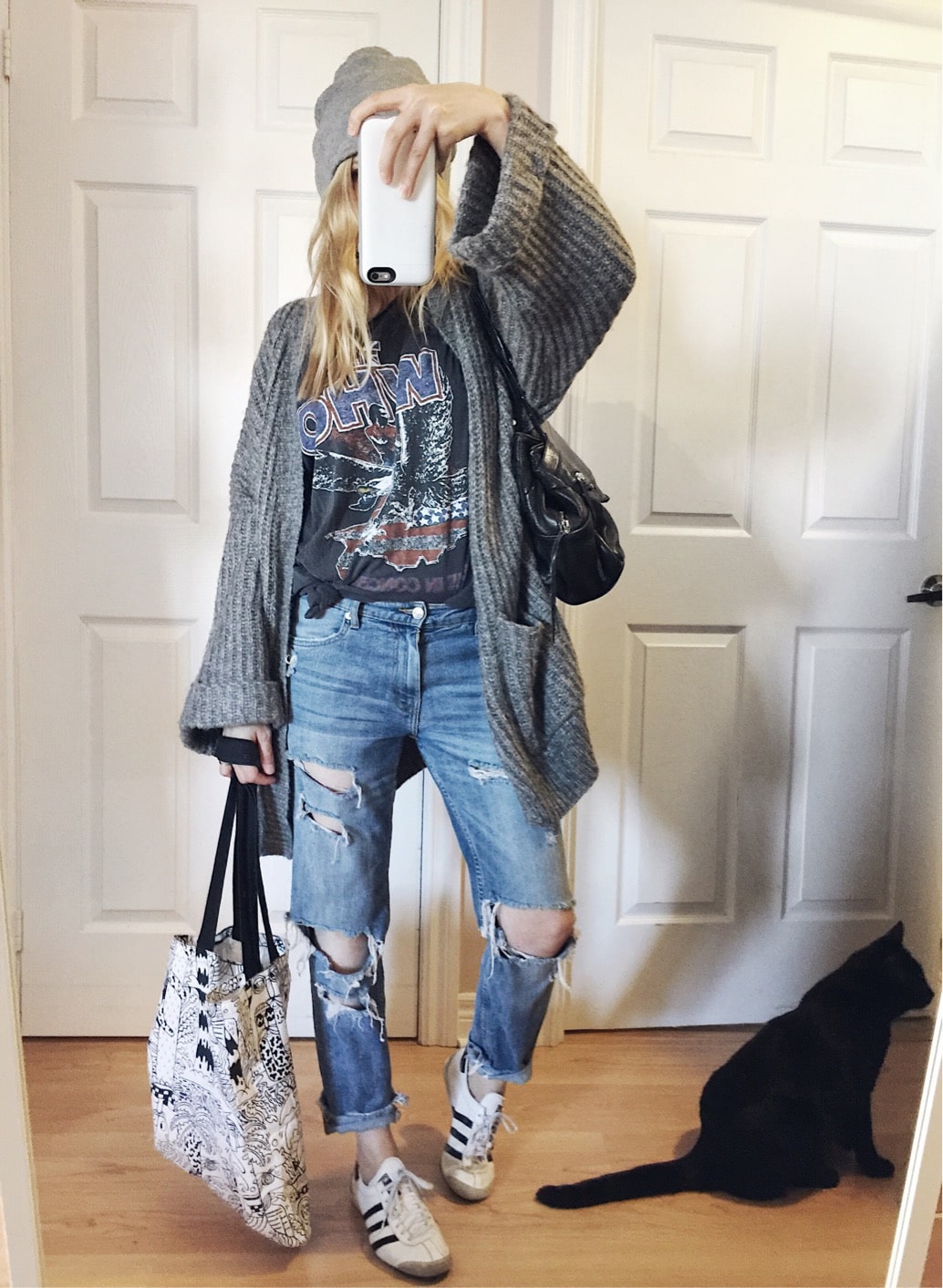 Outfit 1 – Check blazer (really old so it totally pays to keep things sometimes) similar style | Band Tee (similar) | Cropped Jeans • Mango (plus size) | Booties Ecco | Purse • Botkier |
Outfit 2 – My Carmen Sandiego inspired outfit | Fedora | Trench | Black Blouse | Dark Skinny Jeans | Loafers | Purse |
Outfit 3 – Lace Peplum top (plus size) | Leather Jacket | Boyfriend Jeans | Loafers | Purse |
Outfit 4 – Band Tee • Junk Food Clothing (similar) | Oversized Cardigan | Boyfriend Jeans | Knit Beanie | Adidas | Purse |
---
SHOP THE POST


---
On Saturday there was a Halloween event nearby so Merle got to try on and test out her costume. It was a success and you can see it above (here is my diy for the Cousin It bucket). She is all about the costumes while her sister is just more about that candy (always has been) and I guarantee by the time for bed on Halloween night she will already be thinking about what she wants to dress up for next year.
Also on Saturday night I decided that it was a most excellent idea to move the living room around. And by most excellent I obviously mean not the brightest idea. I wanted to make room for the Christmas tree and figured it was a good time to start. I ended up too tired and going bed before I finished so I had to deal with the mess on Sunday morning which totally sucked.  I also ended up scratching the shit out of my knuckles when my hands got stuck moving a desk. Good times. I think the result is pretty good though. Much roomier aside from the fact that there are 4 baskets of laundry in there to be folded and put away. I so hate folding and putting away laundry.
It was so cold in my bedroom last night I had to build a tent of pillows and blankets around my face with only a breathing hole. It's my favourite way to sleep, so I am happy it's cold enough now. Do you like to sleep in a freezing room?
My 12 (almost 13) year old wants to read IT, but I don't want to let her yet because of some super graphic scenes. I haven't read much of his stuff because I scare easily, but she seems to have more of her dad's tastes in movies and books. Is there a Stephen King book that isn't quiet as bad as that one? What about Pet Cemetery, Kujo, or Carrie? If you have read any of those? Will it be too scary for a kid that has a pretty high tolerance for scary stuff?
Last year I bought Merle this cat Feisty Pet from Vat 19 (she loves Vat19 and watches their Youtube videos all the time). So if you are looking for an inexpensive gift for people/kids with unique tastes this may be for them. They are pretty awesome eh?
Who is going out on November 1st to buy all the mark down Halloween candy?
 Follow me on
FACEBOOK || INSTAGRAM || PINTEREST || BLOGLOVIN'
SaveSaveSaveSaveSaveSaveSaveSaveSaveSave
SaveSave