We are in need of a new sofa. Desperately need might be more accurate though. I like our current one. It was sold to us by a friend of Tom's and was a pretty expensive couch when it was bought brand new. It's yellow, leather, and only fits  1 1/2 people on it comfortable. That might even be pushing it. When Tom lies on it (like he does when watching tv) that is the only person who can fit. We don't have any other seating in the living room so either I sit at the computer desk, which I watch tv on anyway, or in the bed. It's not very conducive to family living. The couch  served its purpose when it was the second couch in a larger living room. When we moved here we knew we would only have room for one couch and a chair if need be but we have not yet got around to buying one. Condo living means that you can't have a huge L-shaped couch so our options are more limited than standard houses. Every time we go to Ikea I gravitate towards the couch that I have had my eye on for a while now. The Friheten convertible sofa bed. It has a chaise section, but also converts to a double bed which is really convenient when you live in a small space. It also has room for some storage which is also a bonus. I am indecisive to the colour I want. I think a more neutral grey would be the best but there is a similar couch also at Ikea called the Lugnvik (for $100 cheaper) and it brings out the flamboyant side of me because I really likes the red. Grey will probably be the winner though because Tom is much less flamboyant than me 😉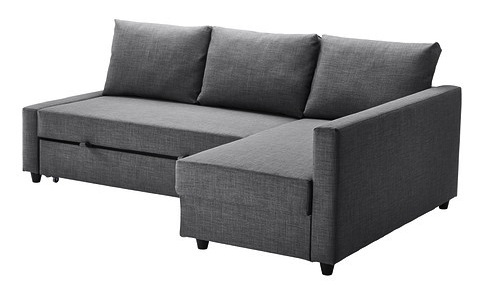 Friheten Sofa Bed with chaise via Ikea in Skiftebo Dark Grey 
Lugnvik sofa bed with chaise via Ikea in Granan Red
There is also a company called JYSK and they are based in Denmark. Their reach is not as extensive as Ikea in North America but I have been to them many times. They offer a similar style couch than the two above Ikea models without the bed part though which I really wanted. But it is much cheaper at $499 so it would be worth to keep it in mind.
Casa Sofa with Chaise via JYSK
Aside from a new couch other seating would be nice to have. The only other seat we have in the living room aside from the dining table chairs is a really not attractive frat boy style (bean bag ish) chair that Tom brought home from his work "office" (the area where he can sit and hangout in between shoots). This chair is totally ugly and I don't want to post a picture of it 😉 I was thinking something more like this would work in the small space. It is not to too bulky, colourful, durable, and inexpensive. It also comes in a variety of cushion colours and wood finishes. I think I like the red, it would work if we got the grey couch.
Poang Armchair via Ikea in Ransta Red
Which one do you think I should get?
You can subscribe to my Blog via email and/or follow me on Bloglovin', on Pinterest or check out my new Instagram @livelovesarablog.