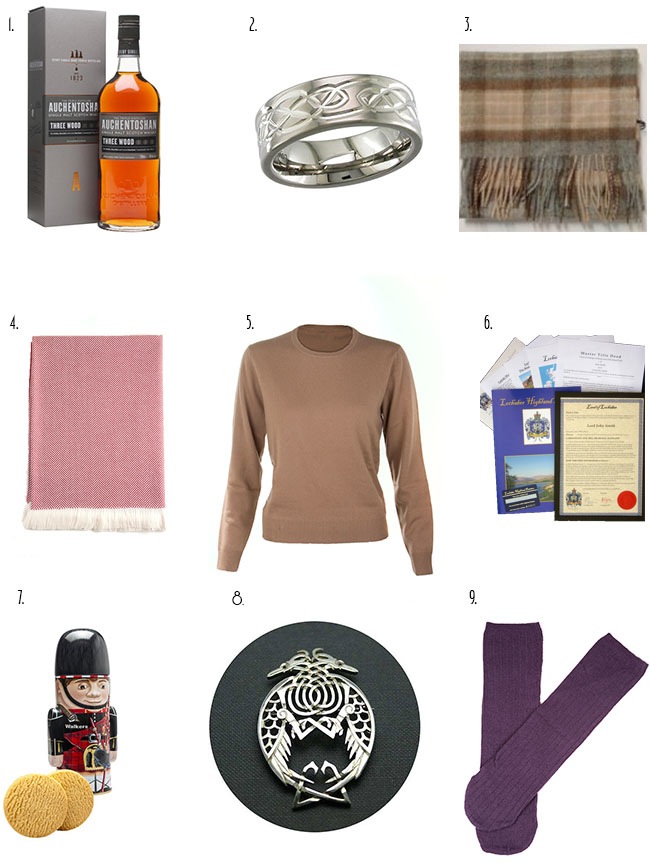 Souvenir Ideas
1. Auchentoshan Whiskey | 2. Titanium Celtic Knot Ring
3. 100% Cashmere Scarf Natural Mackellar | 4. Fine Herringbone Lambswool Throw
5. Cashmere Crewneck Sweater | 6. Buy a piece of Scotland (get a Laird, Lord, or Lady title)
7. Walkers Shortbread in Piper Tin | 8. Mithril Silver Celtic Brooch | 9. Cashmere Bed Socks 
I am a planner. I really suck at the "fly by the seat of my pants" thing so I like to figure things out in detail before I do them. Everything from what it is going to cost, to the best possible way to get there, or what is in the area that we may have interest in too. Then I can plan our destinations to make the most out of our time. When I was reading about Glasgow there were so many things to see and do that I didn't know what to include on this list. I sometimes include things that may need some driving, so they would be considered a day trip from the destination. But usually I tend to stay within a reasonable travelling distance of the main city. Below is my list of What to See in Glasgow in no particular order.
Loch Ness – This is one of those day trips I was talking about. It is about a 3.5 hour drive from Glasgow but in my opinion would be worth it to get a chance of spotting Nessie. The area is supposed to be really beautiful anyway, so well worth the drive.
Kelvingrove Art Gallery and Museum – This is the most visited museum in the United Kingdom outside of London.  Twenty-two galleries that include paintings, sculptures, silver, ceramics, European armour, weapons, clothing, and furniture displaying Scotland's history and prehistory. Plus the admission is free and you can't beat that.
The Necropolis – I sometimes lean towards wanting to see the morbid or slightly eerie and this may be one. It is a Victorian cemetery that contains almost every prominent Glaswegian of its day. It is one of the most significant cemeteries in Europe.
Glasgow Science Centre – One of Glasgow's most popular tourist destinations. It includes a huge interactive Science Mall, Imax, Planetarium, and Glasgow Tower (reopens March 2016).
Hunterian Museum – Part of the University of Glasgow it is Scotland's oldest museum. It has unrivalled collections of human and non human specimens. The museum includes models, instruments, paintings and sculptures all based on science and surgery that date from the 17th century to present.
Barras Market – a long-established, indoor/outdoor market to find all kinds of things including vintage goods and antiques. Only open on weekends.
Botanic Gardens at Kibble Palace – At any time of the year you can enjoy riverside walks, woodland copses, and exotic tropical places. Created in 1817, it is an arboretum and public park featuring several glass houses the most notable being Kibble Palace. You can even do a virtual tour of it online via the website.
The Tall Ship – A restored Victorian sailing ship to explore, with maritime themed exhibitions, tours, and a mini cinema. This would be a fun place to take kids or a sailing enthusiast.
Glasgow Cathedral – also known as High Kirk Cathedral of Glasgow, St. Kentigern's, or St. Mungo's. It is a Roman Catholic church dating from its consecration in 1197, and it has been a place of worship for more than 8oo years. Since I have a medieval obsession then this place would be a must.
The Mackintosh House – Going along with the Hunterian Museum above, the Hunterian Art Gallery is home to the collections of the work of the Scottish architect, designer and artist Charles Rennie Mackintosh and his artist wife Margaret Macdonald Mackintosh. The Mackintosh house is re-assembling of parts of the interior of the Mackintosh's' Glasgow home.
What to See in Glasgow goes with What to Pack for Glasgow, and What to Wear in Glasgow.
Follow me on
FACEBOOK || INSTAGRAM || PINTEREST || BLOGLOVIN'