Ireland Packing List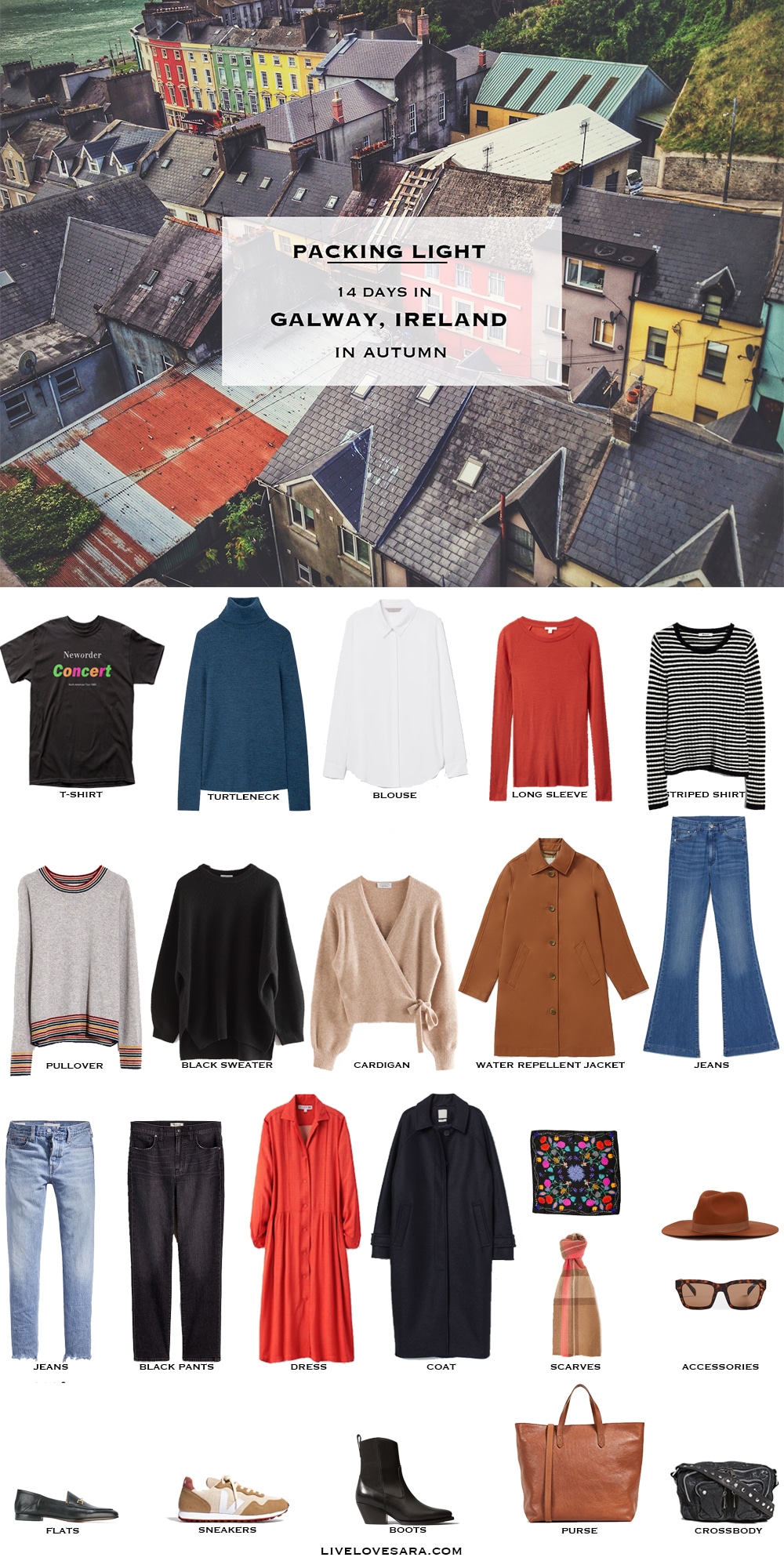 Band T-shirt | Turtleneck | White Blouse | Rust Long Sleeve | Striped Shirt | Grey Sweater | Black Sweater | Cardigan | Water Repellent Jacket | Flare Jeans | Blue Jeans | Black Jeans | Dress | Coat | Floral Scarf | Check Scarf | Hat | Sunglasses | Flats | Sneakers | Boots | Brown Purse | Black Purse |
---
SHOP THE POST


---
Are you travelling to Ireland and wondering what to pack for Galway in the autumn? I can help to simplify you Ireland packing list in this post.
Although this Galway packing list was requested back in June, the selections were inspired by a Galway Instagrammer that I know and follow (Trish from thesavvysartorialist). She is always so well put together in her work, daily, and travel style.
While I was trying to come up with ideas of what to pack for Ireland I had to get a quick rundown of the travel itinerary. No adventure tourism or strenuous nature hikes for this lady, she is sticking to the cities and touring around those.
This means a lot of walking around cities by day, and dinner or entertainments (or both) in the evening. She has no plans for anything really fancy, but being able to transition some of her day looks to evening with a few simple changes are ideal.
Packing for Ireland can't really be broken down in to season because it is a country that is notorious for experiencing several season in a day. This means smart packing…….and what is smart packing (or packing smart) exactly?
The main thing is packing light in order to travel light. This means less pieces of clothing but combined in to a travel capsule wardrobe so that these less pieces make a lot of outfit options that will cover your itinerary and weather needs.
I put together 12 outfits today, but in reality all of these pieces would make a lot more so you will not run out of travel outfit ideas.
The best way to build a capsule wardrobe for travel is to stick to a colour palette that allows all items to mix and match. It does not make sense to pack a red blouse and green trousers unless you want to have a little christmas flare.
After you choose your travel colour palette you decide how many items you will need from the tops, bottoms, dresses, outerwear, and shoes categories. It's a general rule of thumb to have 4-5 tops, a couple of sweaters or cardigans, three bottoms, a dress (or two if you are a dress person or it is summer), weather appropriate outerwear, and a maximum of three pairs of shoes.
I am always completely baffled when I see other bloggers packing lists and they have 5-6+ pairs of shoes. Like, where are you going to wear all of those shoes? I barely wear 5-6 different pairs of shoes in a whole season. Maybe I'm the odd one though 😉
It's important to ensure that your main travel shoe choice is comfortable enough to walk around all day. Which is why it is never a good idea to bring a brand new pair of shoes with you. Something tried and true will always be your best bet.
My current most comfortable shoe is my Tread by Everlane sneakers. Like the reviews say, it's like wearing a cloud on your feet. I have read a million great reviews about Allbirds as well.
This Ireland packing list is for a two week trip to Ireland in the autumn.
You can often find cheap flights to Ireland in off seasons like October, you can check the different flight deals here.
You can find more packing lists and what to wear guides in my:
Packing List Series
Travel Outfit Ideas
If you are visiting Ireland in November and enjoyed my What to Pack for Galway in Autumn packing list, please feel free to share it via Pinterest, Facebook, or Twitter. Thank you.
Ireland Travel Outfits


Band T-shirt | Turtleneck | White Blouse | Rust Long Sleeve | Striped Shirt | Grey Sweater | Black Sweater | Cardigan | Water Repellent Jacket | Flare Jeans | Blue Jeans | Black Jeans | Dress | Coat | Floral Scarf | Check Scarf | Hat | Sunglasses | Flats | Sneakers | Boots | Brown Purse | Black Purse |
---
SHOP THE POST


---
Follow me on
FACEBOOK || INSTAGRAM || PINTEREST || BLOGLOVIN'