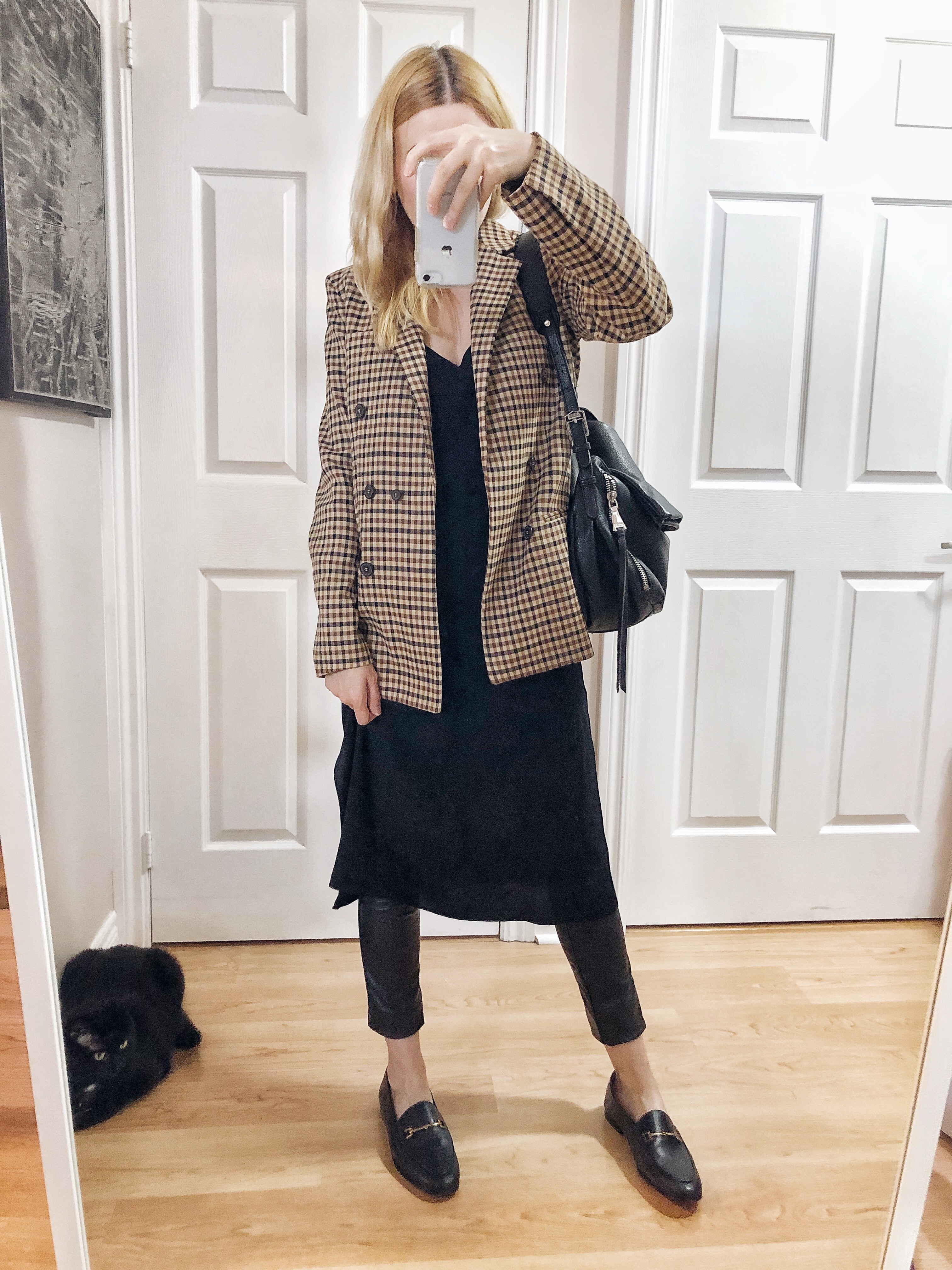 Outfit 1 – My Animal print coat | Merle's Coat | Jeans | Beanie | Purse |
Outfit 2 – Dress (similar) | Blazer (similar) | Pants | Shoes | Purse |
Outfit 3 – Sweater | Denim Jacket | Oversized Jacket (similar) | Pants | Shoes | Purse |
Outfit 4 – Beanie | T-shirt (similar) | Cardigan | Pants | Boots | Purse |
---
SHOP THE POST


---
I've danced around buying myself a pair of calf hair boots in the recent months. I have it set in my mind what I want but they are REALLY expensive, so I have looked for slightly different styles at a lower cost. These came in to Zara that caught my eye (I can do a kitten heel), then these at ALDO were on sale but sold out of my size over the sale weekend (They are back in stock now though).
Last night I checked on Kijiji just for the hell of it and someone had a pair on there from a month ago. I figured it didn't hurt to send them a message and they got back to us almost right away. Tom went over to pick them up last night and I got them barely worn for $40. The are called the Joie Barlow Bootie and retail for about $335 USD. The heel is a great size for me too, so they were an awesome find.
Tom went through his closet today and purged a bunch of old clothes. I went through the old blankets and household things as well, and we managed to fill 3 large clear garbage bags with donations. While he was dropping stuff off he found me another pair of like new Sorels for $20. I'm trying to figure out what model they are. They look like the 1964 Pac 2 in black leather with a black liner (more like the men's version). It appears that the second-hand shoes gods are looking kindly at me right now because I am finding all kinds of great deals in the shoe department.
And yes I did wear my faux leather leggings 3 times this week.
You check out more of my What I Wore posts here.
Follow me on
FACEBOOK || INSTAGRAM || PINTEREST || BLOGLOVIN'