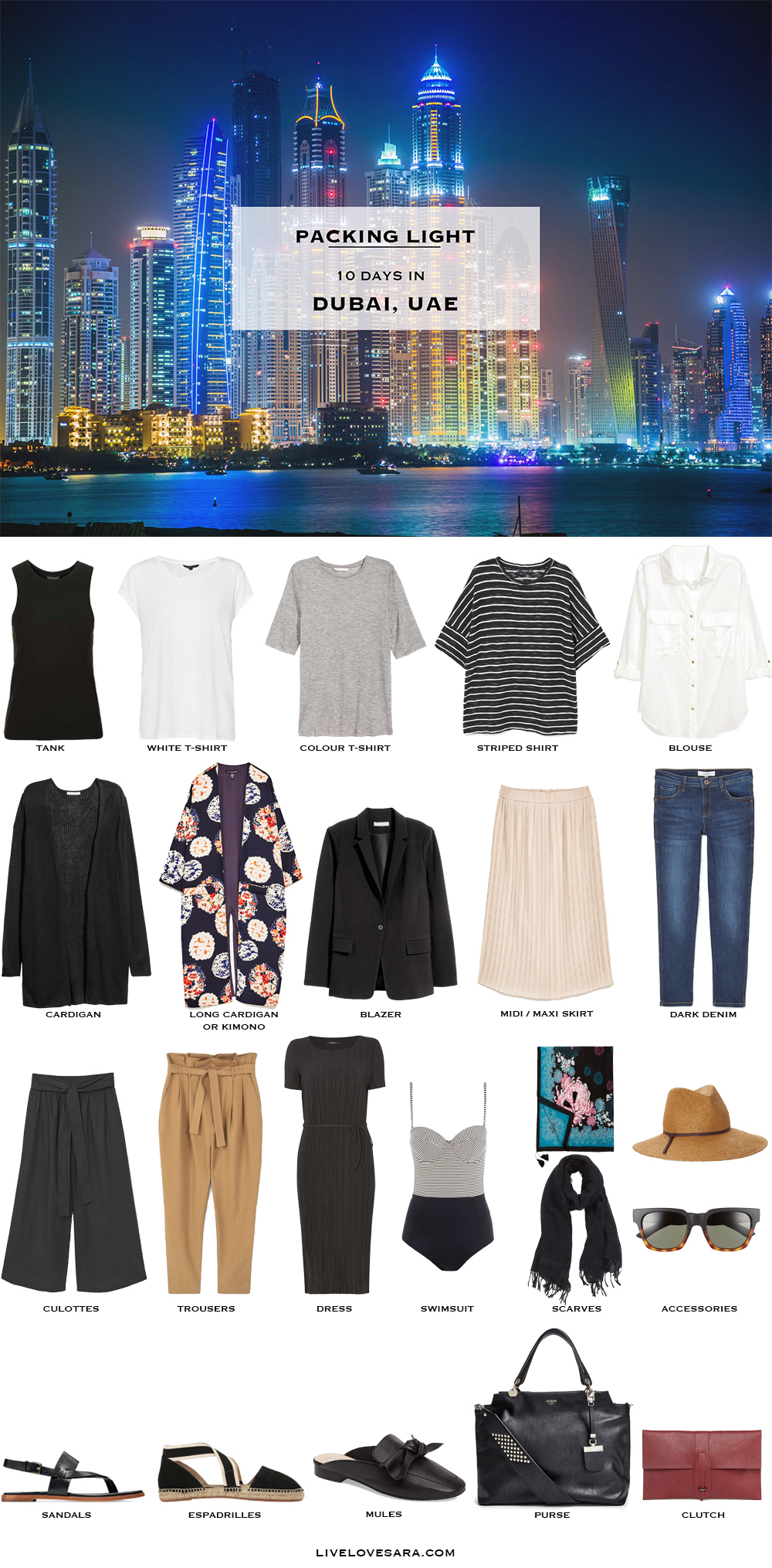 Black Tank • Topshop | White T-shirt • French Connection | Grey T-shirt • H&M | Striped Shirt • Mango | White Blouse • H&M | Black Cardigan • H&M | Kimono • Zara | Blazer • H&M | Midi Skirt • Zara | Dark Denim • Mango | Culottes • Mango | Trousers • Mango | Dress • Dorothy Perkins | Swimsuit • Topshop | Floral Scarf • Loft | Black Scarf • Nordstrom | Hat • Century 21 | Sunglasses • Smith | Sandals • Cole Haan | Espadrilles • Splendid | Mules • BP | Black Purse • Guess | Clutch • Gracie Roberts |
Dubai is one of those destinations where there are many circumstances that can affect your clothing choices. First off it is hot, and depending on the time of year it is really, really hot. But it is also a really wealthy country so almost everywhere will have the air conditioning blasting, and at night expect the temperature to drop at least 10 degrees from the daytime temperature. It is also a Muslim country therefore there are certain dress codes you should follow to be respectful. There are also many sites that will not permit you entrance if you are not covered properly which is something to remember when packing. So what does this mean? You need hot weather items, but also things to cover up when the air conditioning freezes you. Your hot weather clothes should cover the shoulders, with no obvious cleavage showing, and knees should be covered. At some locations you may be required to wear long sleeves as well as being covered to ankles, with head coverings. Bars and nightclubs are different as well. Here the dress codes are much more lax and you can wear shorter skirts/dresses, shoulders bared, but also note that many of these places are quite dressy so you may want to pack your best party dress and heels to fit in.
This request is for an 8 day trip to Dubai in April, and the predicted weather shows it will be from low 30's (in celsius) to high 30's so it's going to be hot. It's a dry heat, but hot nevertheless so stick with natural, or loose, airy fabrics. If you pack a tank top make sure that you have something to wear over it. This is why I included a long kimono style shirt to wear open. It is airy while still looking put together, but you could also wear a blouse unbuttoned over a tank for the same effect. The cardigan is for night as well as air conditioning, and the blazer adds a quick way to cover up at night and add some dressiness to what you are wearing. I was a little stumped for shoes so go with your gut on this. Many Dubai women dress up and wear expensive heels for regular outings. This may be an option, but if you are averse to heels then a dressy flat is also a good choice. A boot is suggested for this time of year as well but you might not get much use out of them if it is really hot. I narrowed my choices down to sandals, an espadrille, and a dressy mule.
A swimsuit is also important, and although you can wear a westernized suit this is only acceptable in the pool area and upon leaving there you should change or be covered up. Scarves of varying sizes and colours are important to have and will work to protect you from the sun, wind, sand, and as a head/shoulder cover in a pinch. Remember that this place is hot and if you are prone to sweating you may want to bring and extra t-shirt or two unless you have direct access to laundry facilities.
As with anywhere it is a good idea to research or call ahead to verify the dress code of any place you may be visiting. This will prevent any embarrassment or awkward situations.
Outfit options will be in the next post.
If you like this post you can find more packing lists and outfit options in my:
Packing Light Series 
What to Wear Options
Follow me on
FACEBOOK || INSTAGRAM || PINTEREST || BLOGLOVIN'