Holiday Gift Guide for Under $25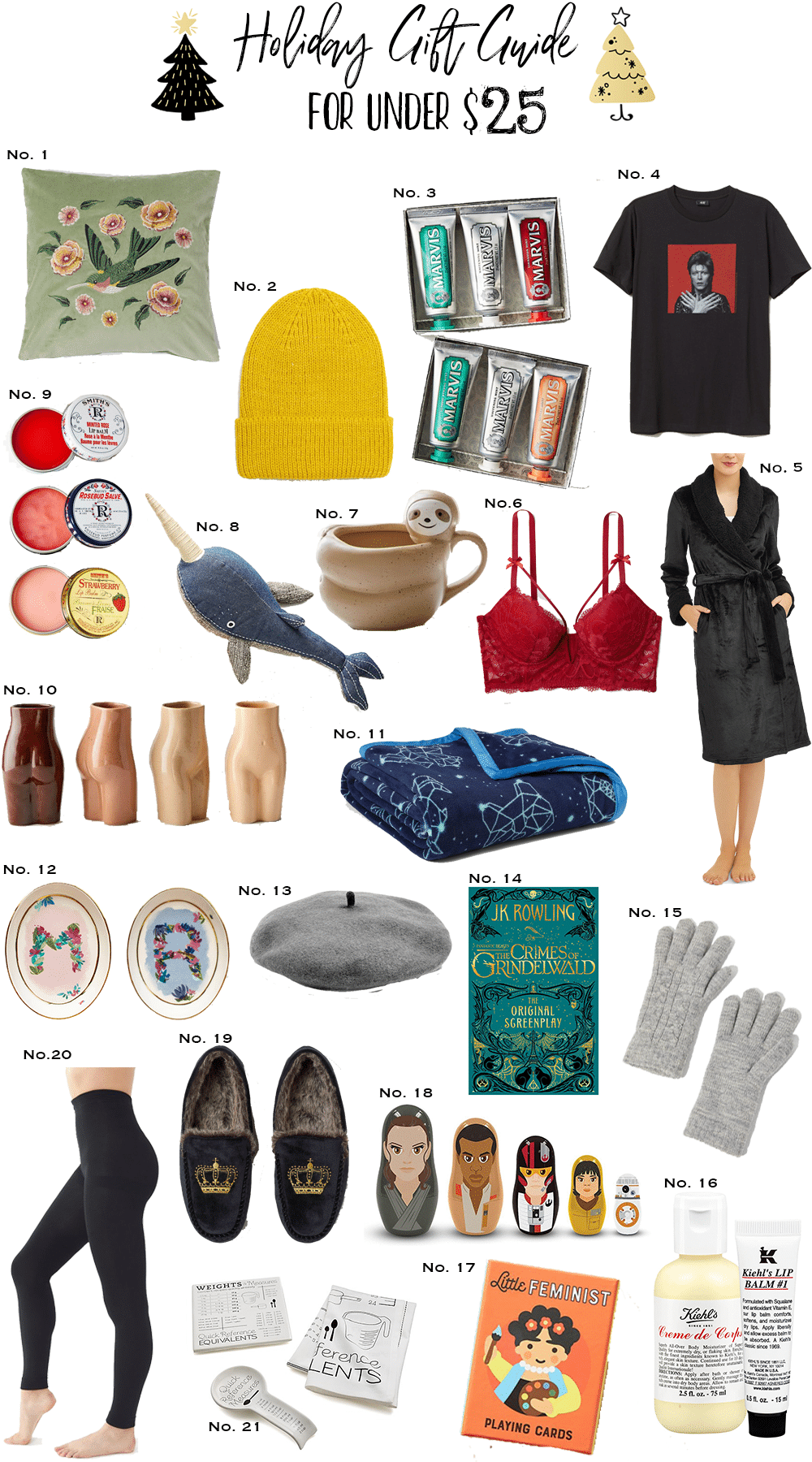 One | Two | Three | Four | Five | Six | Seven | Eight | Nine | Ten | Eleven | Twelve | Thirteen | Fourteen | Fifteen | Sixteen | Seventeen | Eighteen | Nineteen | Twenty | Twenty-one |
---
SHOP THE POST


---
The post this week includes a Holiday Gift Guide for under $25. I am trying to give as many inexpensive gifts as I can because I know what it is like to have to Christmas shop on a budget. It can be stressful, and disheartening when you can't find any good Christmas gift ideas for under $25. I hope this helps you out.
I decided to cut back on my caffeine intake this week. I actually stopped drinking coffee on Monday and switched to tea. It's been throwing my body a bit due to the withdrawal and I had a moment the other night while I was reading in bed where I thought I was going to faint.
I put my head in between knees for a minute or two and it passed, but it was slightly concerning. I haven't had any issues since but I making myself more aware of anything weird or off.
I bought myself a Christmas gift this week. I don't know if you remember me talking about how I wanted this wrap top from ABLE, but it's been on my radar for at least half a year if not more (I seem to have no concept of time these days).
Anyway, it's on sale and if you sign up for the email they give you 20% off your first purchase so I saved a lot. Also, the shipping to Canada is only $15 which is waaaaay cheaper than most U.S. retailers which was a nice change.
What pushed me into the purchase was seeing it here on Instagram on a woman who I follow. It looks really nice on her, and I am so looking forward to it arriving. I actually had a black wrap top kind of like this in the late 90s early 2000s that I wore until it practically disintegrated.
I was actually able to wear it through my first pregnancy before it was time for it to retire so I am happy to find a replacement after all these years.
Have you bought yourself any gifts this year?
Weekly Reads (and maybe videos):
Please Read This in The Event You Have to Save a Kid's Life With An EpiPen.
WHO'S SHE?: A Wooden Guessing game that celebrates inspirational women throughout history Kickstarter.
This Norwegian Town has More Books Than People.
Researchers Use High-Tech Dress to Show Just How Often Women Are Groped at Clubs.
I had NO idea this is how luffas were made.
Penguins out and about. The video in which I almost died from cuteness.
100-Year-Old Footage of Legendary Artists Monet, Renoir, Rodin, and Degas Working and Walking Near Their Studios.
The Ten Best Children's Books of 2018, and The Ten Best Science Books of 2018.
13 Fascinating Winter Solstice Traditions Around the World.
---

---
You can see some more Gift Guides here.
Follow me on
FACEBOOK || INSTAGRAM || PINTEREST || BLOGLOVIN'