Scotland Packing List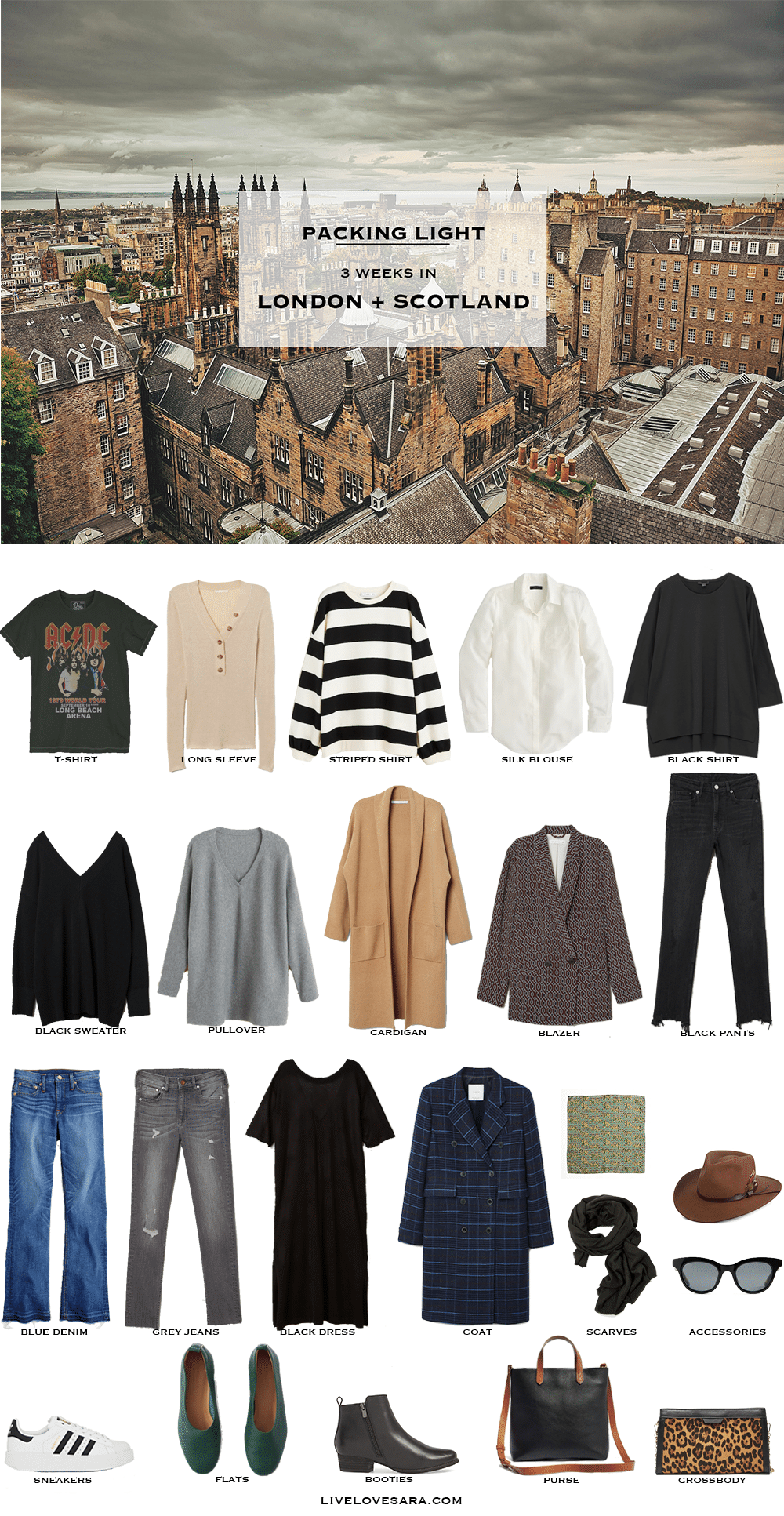 ACDC T-shirt | Button Front Long Sleeve | Striped Shirt | White Silk Blouse | Black Shirt | Black Sweater | Grey Sweater | Camel Cardigan | Blazer | Black Jeans | Blue Jeans | Grey Jeans | Black Dress | Checkered Coat | Green Scarf | Black Scarf | Brown Hat | Sunglasses | Sneakers | Green Flats | Waterproof Booties | Black + Brown Purse | Animal Print Purse 

I am not sure what possessed me to book a dentist appointment for Roo at 7pm at night, but I did so I am really tight for time tonight. My god dentists are expensive. Even with insurance coverage, and now we have a couple of cavities to fill over two appointments so lots of joy.
If you are looking for ideas on how to pack for a trip to the UK in autumn then this post is for you. Today I have a 3 week October trip to London, and Scotland packing list (namely Edinburgh, Glasgow, and the Highlands).
She wanted pieces that were accessible to Canadians, which I totally get being a Canadian myself. She also wanted pieces that would make a good foundational wardrobe for someone who is looking to start from scratch.
Fall/autumn is my favourite season and the best to shop for by far, and it is also the best travel season (at least in my opinion) and everything I picked today would be good staple pieces to have in a starter capsule wardrobe.
A few nice sweaters in some neutral tones, a silk blouse (here is also one by Zara that is nice and that I have my eye on).
Several pairs of jeans and/or pants in various colours and washes, a black dress in a knit, a blazer, and a mid-weight jacket that will work for autumn temperatures.
London and Scotland weather in fall can be rainy, so the booties I included are actually waterproof. They are a lot more stylish and easier to wear (and pack) than a pair of rain boots are.
For no rain/warmer days a are a cute pair of flats are a good option (These Everlane flats were just released in some really great fall colours, and they have great reviews), and some sneakers.
I could easily take these pieces and have a complete fall capsule wardrobe that would take me all the way through winter and spring with the addition of a winter coat and boots.
I put together 18 different Scotland and London travel outfit ideas so you can see how easily they will work through the trip as well as several seasons.
I hope that this gives you some inspiration for how to pack for Scotland and London. And I have personally ordered from (or know people who order often) each of these online retailers for Canadian shipping (for the ones that are not located in Canada).
My favourite for ease and price being Mango.
This is a fairly neutral base travel capsule with the only pop of colour being the flats. You will find that it is easier to packing light and build a mix and match wardrobe when you focus a lot on colours that all work well together. Building a capsule with a neutral base is a great way to start.
Scotland Outfit Ideas


ACDC T-shirt | Button Front Long Sleeve | Striped Shirt | White Silk Blouse | Black Shirt | Black Sweater | Grey Sweater | Camel Cardigan | Blazer | Black Jeans | Blue Jeans | Grey Jeans | Black Dress | Checkered Coat | Green Scarf | Black Scarf | Brown Hat | Sunglasses | Sneakers | Green Flats | Waterproof Booties | Black + Brown Purse | Animal Print Purse|

You may also like:
How to Pack for Rome in Winter
How to Pack for Lisbon in Winter
How to Pack for Spain in Winter
This post contains affiliate links. By using my links to shop I may receive a small commission (at no cost to you). Thanks for supporting what I do