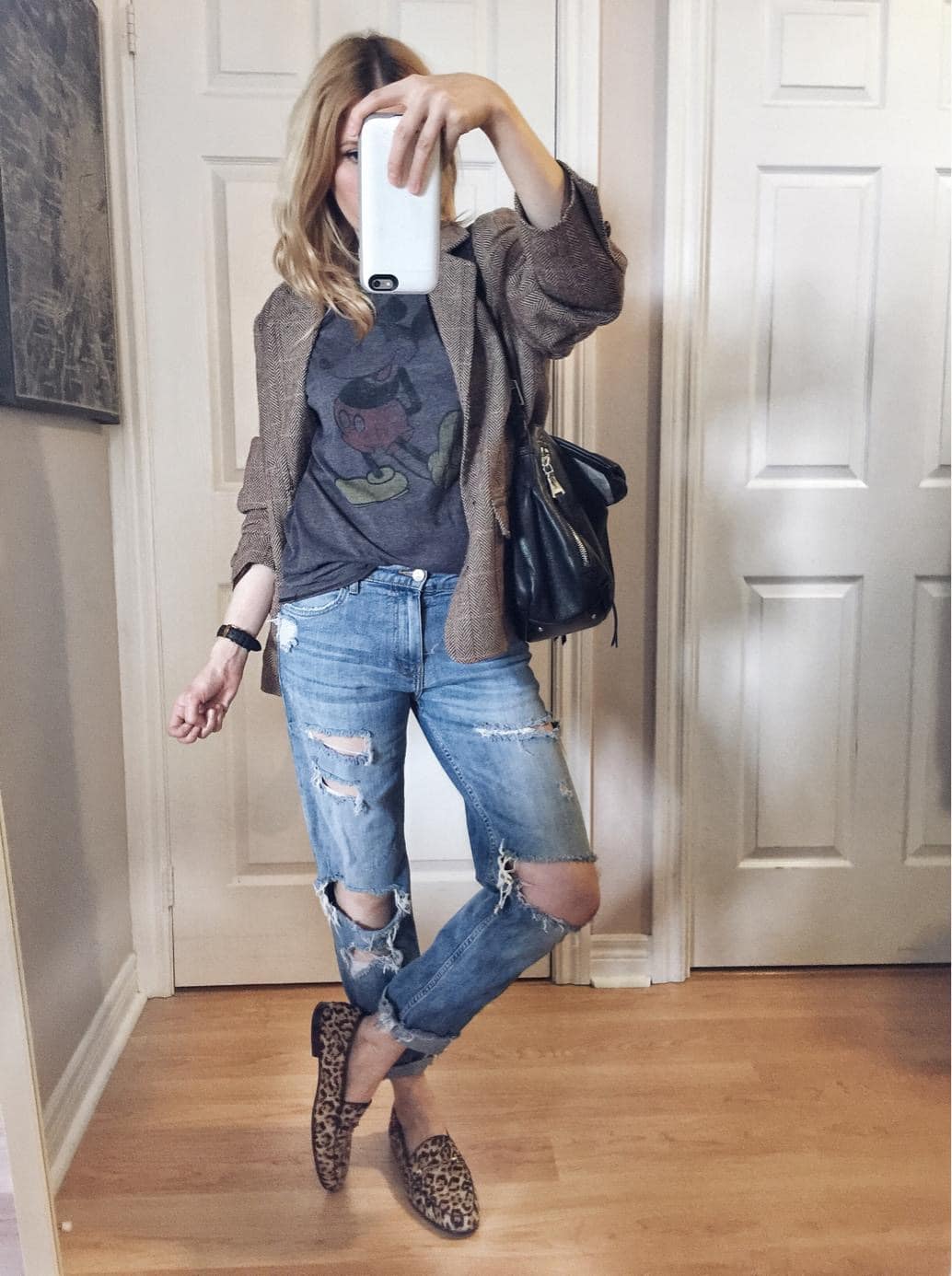 Outfit 1 – Black Lace Shirt | Side Stripe Trousers | Adidas | Purse |
Outfit 2 – Mickey Mouse Tee | Oversized Blazer (similar) | Jeans | Animal Print Loafers | Purse | Watch
Outfit 3 – Kiss Tee (similar) | Jeans | Coat | Converse | Purse | Pin (similar) |
Outfit 4 – Kiss Tee (similar) | Leather Jacket | Side Stripe Pants | Adidas | Purse | Watch |
---
SHOP THE POST


---
Is it horrible for me to admit that I hate going to the park? Like really, really hate it. Last Sunday we were in the middle of a snowstorm, and this Sunday is bright sunshine and amazing temperatures so of course us and everyone that has children within a 5 mile radius were at the park. The kid better go to bed easily tonight after that many hours there. On a positive note to this beautiful weather, it's nice to have the windows wide open. It's been a long winter.
Anyone else haven't done your taxes yet? We have until April 30th here, but oh man are we pushing it. I still haven't even gathered all of my information, so I'm going to have to get on asap. I used to be one that had my taxes filed as soon as I got all the paperwork in the mail. Those were the days when I actually got a refund, now that I seem to owe every year I am less inclined to get them submitted early. I miss those days :/
We haven't had cable since before Merle was born so she has never experienced it. Last week Tom got talked into getting cable through our internet company because they had a deal which made the package cheaper than what we were paying just for the internet. Watching her experience commercials for the first time was pretty funny, but the novelty wore off and now she's pissed that she can't skip past them. She got the hang of it pretty quickly though because my PVR is filled with Spongebob recordings. I'm still waiting for my turn to watch something.
And just like that the weekend is over. Have a good week guys. 
You check out more of my What I Wore posts here.
Follow me on
FACEBOOK || INSTAGRAM || PINTEREST || BLOGLOVIN'
SaveSave
SaveSaveSaveSave
SaveSave