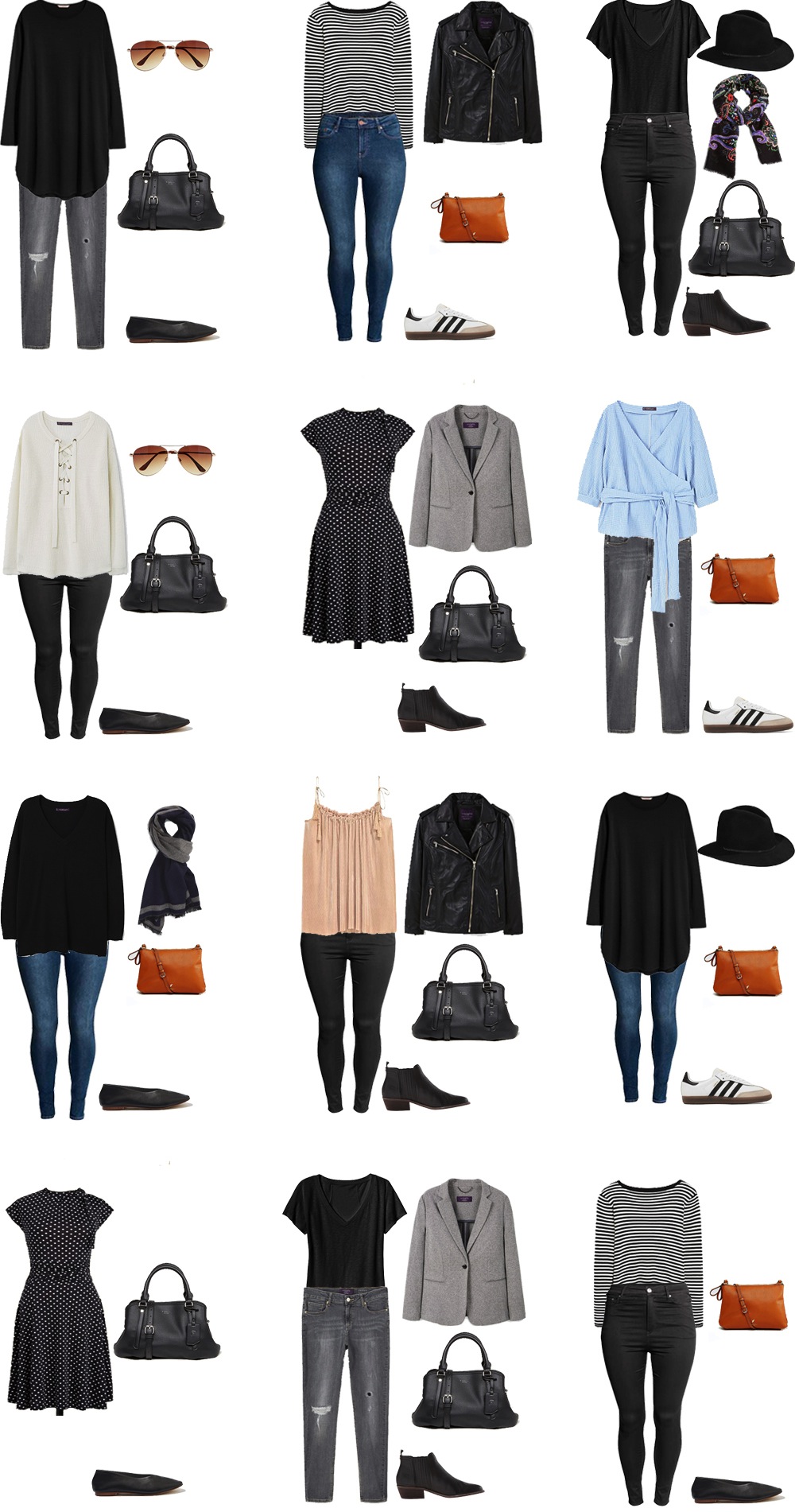 Blush Camisole • H&M | Black T-shirt • Athleta | Striped Long Sleeve • Simply Be | Blue Wrap Blouse • Violeta by Mango | Black Tunic Top • H&M | Black Sweater • Violeta by Mango | White Lace Front Sweater • Violeta by Mango | Blazer • Violeta by Mango | Moto Jacket • Violeta by Mango | Dark Denim • H&M | Grey Casual Denim • Violeta by Mango | Black Trousers • H&M | Dress • Modcloth | Navy/Grey Scarf • Nordstrom | Floral Scarf • Vera Bradley | Hat • Maison Scotch | Sunglasses • Express | Flats • Topshop | Boots • Steve Madden | Sneakers • Adidas | Black Purse • Fiorelli | Brown Crossbody • Fiorelli |
I'm kind of excited to coast in to the weekend for two reasons:
1. The weather is supposed to go up to 10°C + which means we can spend some real time outdoors and open all the windows to air everything out. I hope this means we will get an early spring. I love spring.
2. It is a long weekend. Monday is "Family Day" which is a designated holiday to spend time off work with your family. The only bad part is that everything we may want to do as a family is going to be filled with a million other people with the same idea.
On to today's post. These are the 24 outfit options that I put together from the What to Pack for Amsterdam packing list. The list was by Instagram request, for a 14 day June trip to Amsterdam, Berlin, and Paris. The selections are plus size as per request and the 24 outfits (with room to make more) will take you through all kinds of activities (minus really formal or adventure tourism wear). The options do cover dressy dinners, walking, sightseeing, shopping, and a variety of temperatures. I hope these suggestions give some good ideas of what you could wear and pack for Amsterdam.
How is the weather where you are right now? 
Follow me on
INSTAGRAM || PINTEREST || BLOGLOVIN'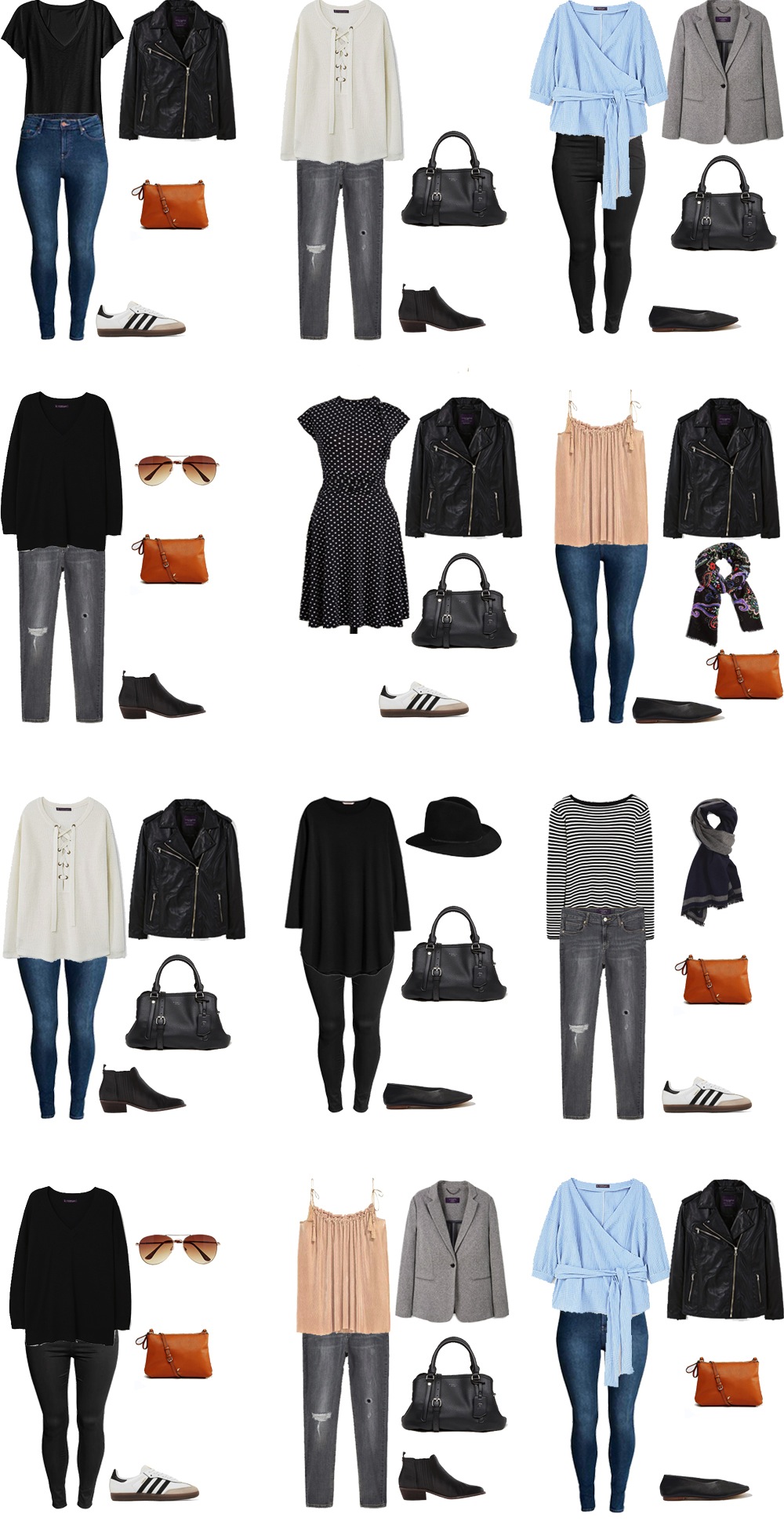 Blush Camisole • H&M | Black T-shirt • Athleta | Striped Long Sleeve • Simply Be | Blue Wrap Blouse • Violeta by Mango | Black Tunic Top • H&M | Black Sweater • Violeta by Mango | White Lace Front Sweater • Violeta by Mango | Blazer • Violeta by Mango | Moto Jacket • Violeta by Mango | Dark Denim • H&M | Grey Casual Denim • Violeta by Mango | Black Trousers • H&M | Dress • Modcloth | Navy/Grey Scarf • Nordstrom | Floral Scarf • Vera Bradley | Hat • Maison Scotch | Sunglasses • Express | Flats • Topshop | Boots • Steve Madden | Sneakers • Adidas | Black Purse • Fiorelli | Brown Crossbody • Fiorelli |