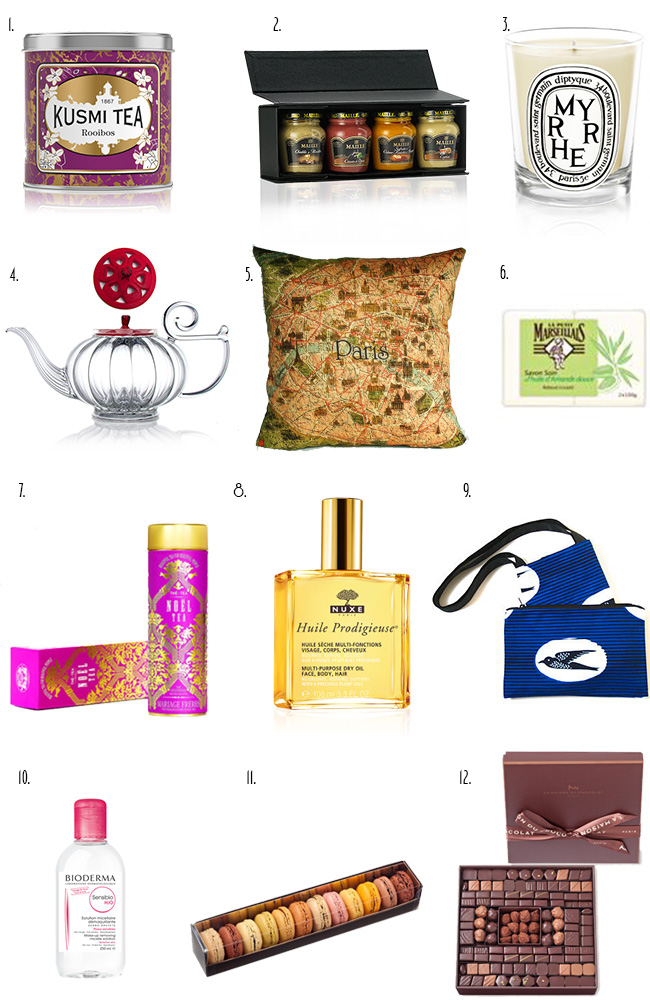 Souvenir Ideas
1. Kusmi Tea | 2. Maille Mustard | 3. Diptyque Candles (I love the smell of Myrrhe)
4. Mariage Freres Hand Blown Glass Teapot | 5. Paris Pillow Case via Etsy
6. Le Petit Marseillais Soap | 7. Mariage Freres Tea | 8. Dry Oil Huile Prodigieuse
9. Kasia Dietz Foldable Handbag | 10. Sensibio BIODERMA Makeup Remover
11. Macarons | 12. La Maison du Chocolat gourmet mixed pack 
It's after Christmas and I am back after a few days off. I hope that all of you who celebrate had a wonderful holiday. Now back to business 😉
Paris is one of those places that you can think of several things right away that are popular tourist destinations. I absolutely want to see the Eiffel Tower, The Louvre, and Montmartre but there is a huge amount of hidden, unusual, macabre, and less visited places. Below is a list of many interesting places, some off the beaten path that may pique your interest.
Paris Bird Market – Paris' famous Plant and Flower market turns in to a Bird Market on Sundays. Along with looking at al the beautiful coloured birds you can admire the vast variety of bird cages from ancient, to, classical, modern, metal, and wooden. The market also offers aquariums of fish, hamsters, rabbits, or Guinea pigs, and big bags with bird seeds.
Montmartre Cemetery – The burial-place of artists, painters, composers, singers, dancers, comedians and others who lived in Montmartre in the 19th and 20th centuries. Over 11 hectares of land with 20,000 plots varying from understated to grand, and extravagant, some are abandoned and falling in ruins, while others disappearing under he many flowers that cover the area.
Nicolas Flamel's House – He was a Parisian writer, and manuscript seller (1330-1418). Later stories referred to him as an alchemist who may have discovered the Philosopher's Stone. The house was built in 1407, and is now the oldest stone house in Paris. Here where it is said he carried out his experiments in alchemy.
Musée de la Vie Romantique (Museum of Romantics)- A museum dedicated to life in the romantic period. The museum is housed in two buildings, one with a temporary exhibition and the other with two floors that are dedicated to romantic art and literature.
Le Musée Des Moulages – A museum dedicated to displaying wax models of body parts that are afflicted with diseases. Two spectacular floors of nothing but wax models of diseased flesh. Horrifying but cool.
Paris Catacombs – Located 20 metres below the city it has the remains of about 6 million Parisians. They were gradually transferred between the late eighteenth and mid-nineteenth centuries as graveyards were being closed because of the risk they posed to public health. The tour is around 45 minutes and covers two kilometres. The temperature is a constant 14°C in the Catacombs.
La Conciergerie – The former ante chamber to the guillotine the interior has been rebuilt to give you an insiders look to the French Revolution and the Reign of Terror.
Deyrolle Taxidermy – A store that displays a collection of exotic taxidermy, entomology, and natural history specimens, displayed in antique wooden cases and glass bell jars. Many of these animals are for sale (aside from the more exotic ones) but most are available to rent.
Musée des arts et métiers (Museum of Scientific and Industrial Instruments) – It was founded by anticlerical revolutionaries to celebrate the glory of science it is a museum of technological innovation. iT exhibits over 2,400 inventions that are split in to seven collections, Scientific instruments, Materials, Energy, Mechanics, Construction, Communication, and Transport.
Montparnasse Cemetery – The second largest in Paris, it is also one of the city's green spaces. There are many of Paris's elite and artistic buried here but the main draw is looking at the monuments they have as their memorials.
Dodo Manège (The Carousel of Extinct and Endangered Animals) – A carousel where children can ride on animals that have disappeared or are in danger of doing so. (A YouTube Video to the carousel in action)
Musée de Cluny (website is in French) – ALso known as the Musée national du Moyen Âge is housed in one of the oldest buildings in PAris. It is located above the ruins of Gallo-Roman thermal baths and is a museum that gives a vast presentation of medieval life (right up my alley). This is also home to the famous tapestries "The Lady and the Unicorn".
Museum of the History of Medicine – One of the oldest medical collections in Europe that focuses on rare surgical instruments celebrating the evolution of medical instruments.
Gallery of Palaeontology and Comparative Anatomy – Divided in to two separate galleries The Gallery of Palaeontology is filled with complete fossils, and a number of massive dinosaur skeletons. The Gallery of Comparative Anatomy has over 1,000 animal skeletons. Each animal is facing the same direction giving it the look of a stampeding army of animal skeletons. It is part of France's National Museum of Natural History which has 14 institutions across the country.
The Gravestone Courtyard – Close to the Notre Dame Cathedral on a medieval looking street called Chanoinesse there is a building marked 26 with a red door. Behind this door you will find a small courtyard of gravestones with gothic writing from medieval times. This area was ones the domain of the Chanoine monks. There are no open and closing hours but the door is open on most days.
Museum of Vampires and Legendary Creatures – Visit the macabre collection of Jacques Sirgent, an expert scholar on the undead and more.
Grande Galerie de l'Évolution – a collection of taxidermy animals line the center and thousands more fill the four floors. Biodiveristy is the central focus of the museum.
Cimetiere de Picpus – Where the headless bodies of more than 1,300 guillotined victims of the Terror are buried in mass graves. Very morbid, and macabre but also an integral part of Paris history.
Le Musée des Arts Forains (The Museum of Carnival Arts) – a collection old amusement park rides and carnival related attractions. In the heart of the Bercy neighbourhood it has thousands of fairground artifacts.
To save money you can get a Paris Pass which provides access into over 60 world-class museums, art galleries, and monuments in Paris. It is a combination of the Paris Museum Pass, Paris Attractions Pass, and Paris Visite Travelcard, that you can buy for a 2, 4, or 6 day trip. Some detailed planning into where you want to go and what you want to see would be needed, but most people plan their itineraries beforehand anyway.
You can subscribe to my Blog via email and/or follow me on Bloglovin', on Pinterest or check out my new Instagram @livelovesarablog.
SaveSave
SaveSave