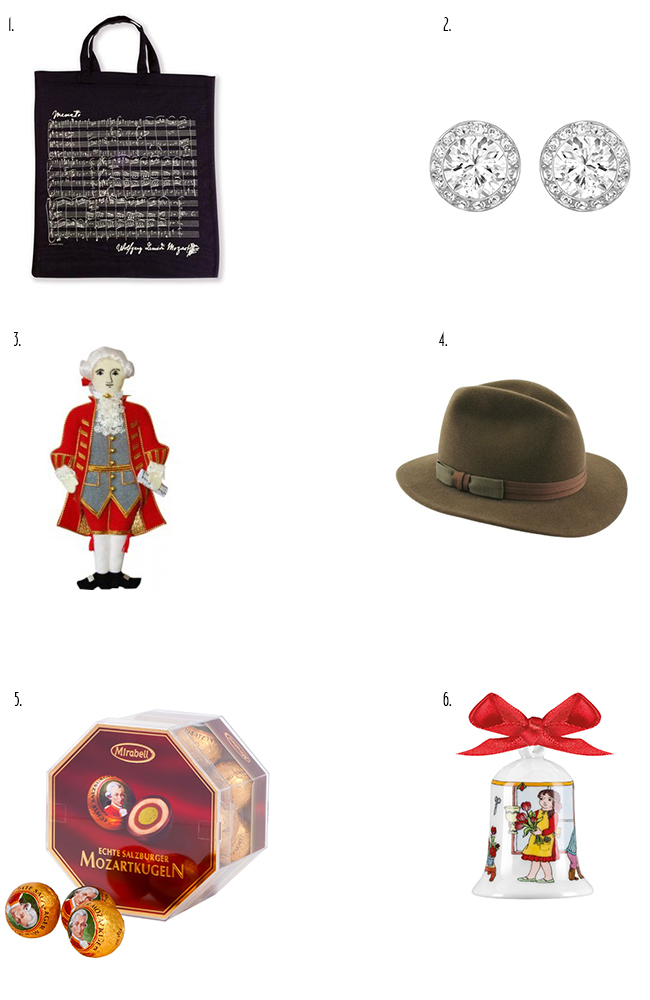 1. Mozart Sheet Music Tote | 2. Swarovski Crystal Angelic Pierced Earrings
3. Mozart Christmas Ornament | 4. Traditional Handmade Felt Hat
5. Mozart Balls (Mozartkugeln) | 6. Heutschenreuther Christmas Bell 
I am going to start with saying that one thing that is high up on my bucket list is to go to a Krampus run, known as Krampuslauf and Krampusnacht. In German-speaking Alpine folklore Krampus is like the antithesis of Saint Nicholas. He punishes the misbehaving children while Saint Nicholas gives gifts to those that have been good. Every year in many Austrian and German towns locals participate in Krampuslauf which is when (mostly young men) dress up in Krampus costumes of varying styles,  and parade through the town (and usually get drunk while doing so). This is something that my family and I want to see badly. Tom wants a real Krampus mask but the handmade ones I find are a little too much for my wallet at the moment, but definitely on my wish list. Below are some of the What to See in Salzburg, Austria during Christmas list.
You can subscribe to my Blog via email and/or follow me on Bloglovin', on Pinterest or check out my new Instagram @livelovesarablog.